Arne Jacobsen (1902-1971)
Danish architect and designer Arne Emil Jacobsen is internationally renowned for his modern and functional architecture, furniture, and product designs. Employing a philosophy of 'economy plus function equals style', his buildings, furniture and tableware became emblematic of the concept "Danish Modern".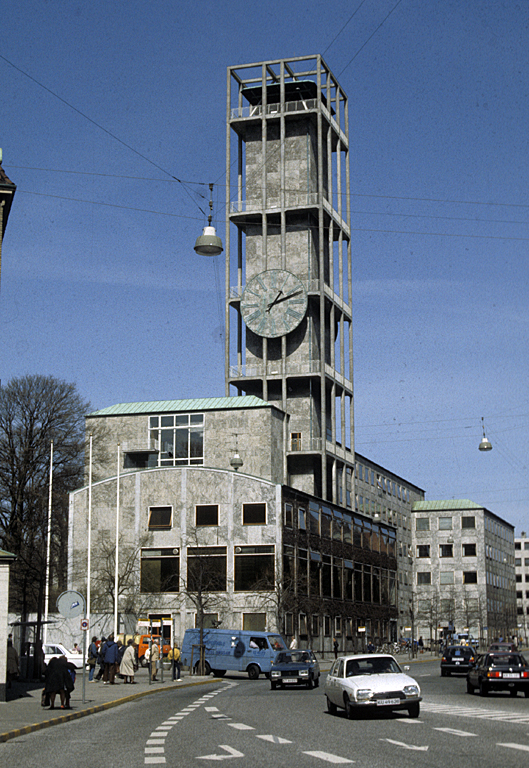 The Danish architect Arne Jacobsen was born in Copenhagen in 1902. Originally interested in being a painter, and spending time as an apprentice mason, Jacobsen attended the Royal Danish Academy of Fine Arts (1924-27) where he studied under several of Denmark's leading architects. Following graduation, he worked for Copenhagen city architect Poul Holsøe. In 1925 he received a silver medal for a chair design at the Paris fair, Exposition Internationale des Arts Décoratifs et Industriels Modernes. During this period, Jacobsen travelled in France and Germany and came into contact with the work of the architects Le Corbuier, Mies van der Rohe and Walter Gropius; all of whom influenced his early work.
Pioneering modernism
In 1929, he and Flemming Lassen won the competition for the design of 'The House of the Future'; an evocatively built work which incorporated modernism's machine aesthetic and social theories. It was exhibited at Copenhagen's Forum. Jacobsen began his pioneering practice in 1930 with works in a distinctive, modern style as witnessed in a series of buildings in the Klampenborg suburb of Copenhagen. These abstract, white cubic volumes with ship-like imagery demonstrate his assimilation and mastery of the modernist design concepts gained from his travels on the continent:
Bellevue sea bath complex (1932)
Bellavista housing estate (1934)
Bellevue restaurant and cinema (1936)
Skovshoved petrol station (1938)
Bellavista housing estate (1934), Klampenborg, Copenhagen. Photo: author.
Use of regional materials
While he executed the Stelling House office complex (1937) in downtown Copenhagen, and the Søllerød Town Hall (1938-42) with Flemming Lassen, Jacobsen's most important pre-war work was the Aarhus Town Hall (1939-42), designed together with Erik Møller and won competitively. While Stelling House continued his earlier abstract ideas, both town halls celebrated a synthesis of modernist elemental design concepts coupled with the use of regional materials and traditional forms. This interest in regional and traditional forms of expression can be seen in several of Jacobsen's post-war housing projects: the Søholm terraced houses (1946-50) in Klampenborg, and the Alléhusene housing complex (1949-53) in Gentofte.
Fusion of functionalism with Danish material restraint
Instrumental to the post-War advancement of modernism in Denmark, Jacobsen's professed concept of 'total design' meant that furniture, textiles, fittings, and fixtures were designed to complement his refined architecture. Fusing functionalism with Danish material restraint, his commitment to total design produced a sophisticated, elegant aesthetic exemplified by:
SAS Royal Hotel and interiors (1960)
Rødovre Town Hall (1956)
Munkegaard school (1957) in Copenhagen
Danish National Bank (1978)
These works were influenced by a focus on glass and steel material usage and detail qualities influenced by the post-War work of Mies van der Rohe and American corporate high-rise architecture.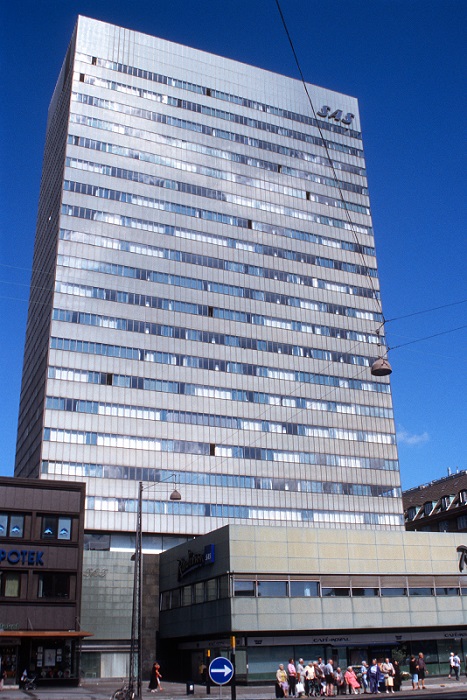 SAS Royal Hotel (1960), Copenhagen. Photo: author.
During this period Jacobsen was among the first Nordic architects to develop an international practice. His major works included:
The Parliament House (1963) in Islamabad
Saint Catherine's College (1966) in Oxford
the Royal Danish Embassy (1977) in London,
several works in Germany including the Mainz City Hall (1966-71)
The Castrop-Rauxel Town Hall (1966-76)
Jacobsen died unexpectedly in 1971 and the buildings completed after his death were completed by his former key employees, Hans Dissing and Otto Weitling.
Complementing his architecture was his internationally recognised furniture and product designs. These include the Ant Chair (1952), Series 7 chairs (1955), the Egg and Swan chairs (1958), and the Cylinda-Line tableware (1967), among others. Many of Jacobsen's furniture and applied designs continue to be in production and available today.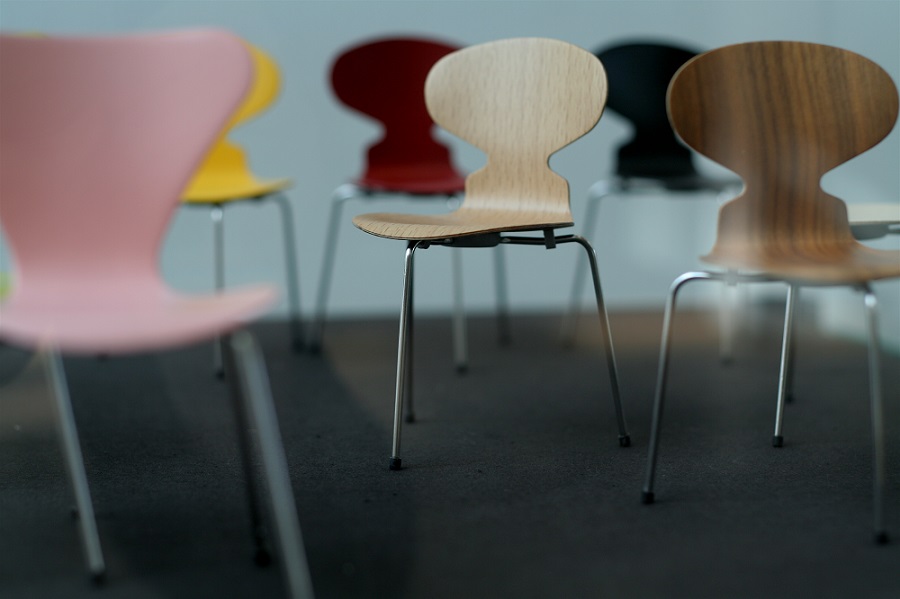 A collection of 'Ant' chairs in the Arne Jacobsen Lounge in Fields. In foreground (pink) a
'Series 7' - an updated version of the Ant. Photo: Keld Dam Schmidt. (CC BY-NC-ND 2.0)
The recipient of prestigious international honours and awards – including the C. F. Hansen Medal (1955) and Prince Eugen Medal (1962) among others – Jacobsen will be remembered for his functional and objective modernism, refined detailing, and material usage throughout his oeuvre. His work represents a substantial contribution to both modernism and the importance of good design within the Nordic countries.
Further reading:
C. Than and K. Vindun, Arne Jacobsen (Copenhagen: Arkitektens Forlag, 2002).
F. Solaguren-Beascoa de Corral and G. Gili (eds), Arne Jacobsen: Public Buildings,
International Architecture Review , No 4 (New York: Whitney Library of Design, 1998)
M. J. Holm, K. Kjeldsen and T. Vindfeld (eds.), Arne Jacobsen: absolutely modern (Humlebaek, DK: Louisiana Museum of Modern Art, 2002).
M. Sheridan, Room 606: The SAS House and the Work of Arne Jacobson (New York: Phaidon Press, reprint edition, 2011).
S. Dachs, L. Hintze, and P. De Muga (eds.), Arne Jacobsen: Objects and Furniture Design (Barcelona: Ediciones Polígrafa, 2010).
Toto, Arne Jacobsen (Tokyo, 2010).
W. C. Miller, Nordic Modernism: Scandinavian Architecture 1890-2015 (London: Crowood Press, 2016).