Bengt Gunnar Ekelöf (1907-1968)
Gunnar Ekelöf was considered one of Sweden's leading and most important twentieth-century poets who produced deeply intellectual and challenging works that weave in many different languages and cultural influences. A lifelong outsider, he is known for introducing surrealism and modernism to Swedish poetry, and for his late-career Byzantine trilogy, beginning with D?w?n över fursten av Emgión (1965) (Divan on the Prince of Emgión), which received the Nordic Council Literature Prize in 1966.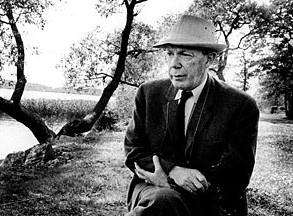 Ekelöf was born in Stockholm in 1907. He studied Oriental languages briefly in London and Uppsala, but never completed his formal education; however, he received an honorary doctorate from Uppsala in 1958.
He made his début with a poetry collection called sent på jorden (1932) (Late Arrival on Earth, 1967), his so-called 'surrealistic suicide book' influenced by the music of Stravinsky and a stay in Paris. This ground-breaking volume with free verse and non-traditional word usage was followed by Dedikation (1934) (Dedication, 1975); then came his personal breakthrough collection Färjesång (1941) (Ferry Song, 1975) with his characteristic dualism and leitmotifs.
For some 20 years Ekelöf worked on En Mölna-Elegi (1960) (A Mölna Elegy, 1984), a taxing work laden with allusions and quotations, many in Latin and Greek. He ventured into the absurd and anti-poetic with Strountes (1955) (Nonsense) and En natt i Oto?ac (1961) (A night in Oto?ac).
Ekelöf produced 15 books of poetry, but also four books of translations from several languages (particularly French, German, Latin, Persian, and, notably, T.S. Eliot's "The Love Song of J. Alfred Prufrock" from English) and four books of essays. He was deeply influenced by Swedish poet Edith Södergran, and although his style is difficult to imitate, several Swedish poets from the 1940s onward are in turn in his debt, including the 2006 Nordic Council Literature Prize recipient Göran Sonnevi.
Ekelöf received several major prizes, including every national Swedish award save the Nobel for literature. Most consider his crowning achievement his Byzantine trilogy: D?w?n över fursten av Emgión (1965) (Divan on the Prince of Emgión), which received the Nordic Council Literature Prize in 1966, Sagan om Fatumeh (1966) (The Tale of Fatumeh), and Vägvisare till underjorden (1967) (Guide to the Underworld, 1980). Ekelöf was elected to the Swedish Academy in 1958. He died in Sigtuna in 1968 of throat cancer.
Further reading:
Carl Olov Sommar, Gunnar Ekelöf: en biografi [Gunnar Ekelöf: a biography] (Stockholm: Bonnier, 1991).