Carl Theodor Dreyer (1889-1968)
Danish director Carl Th. Dreyer is world-famous for his films on passion and compassion. Emphatic depictions of religion and especially women's destiny in societies ruled by men run throughout his work. Meanwhile, a special form of realism, in which minor facial expressions are more important than larger spatial movements, inspires philosophical readings that transgress the time of production.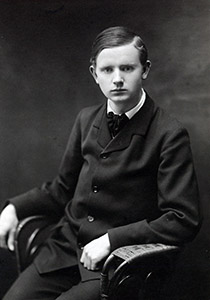 The Danish film director Carl Th. Dreyer was born in Copenhagen in 1889. He was the son of Josephine Nilsson, a Swedish housekeeper, who had to give him up for adoption. At the age of two, he was renamed Carl Theodor Dreyer after his foster father.
Dreyer, who started his career as a journalist, directed 14 feature films and 8 short films in Denmark and France during his lifetime. His films show strong compassion for the injustices done to women, but his oppressed heroines, often outcasts in society, demonstrate spiritual supremacy, empathy and (often religious) faith. He is famous for meticulously drawing each frame before each shoot and for his daringly modern film style.
In his silent masterpiece Jeanne d'Arcs lidelse og død (The Passion of Joan of Arc, 1928), the close-ups of actress Renée Jeanne Falconetti's frank face give a palpable, tactile or 'haptic' depiction of the saint's spiritual passion in contrast to the spitefulness characterising her judges. In this manner, Dreyer emphasised the iconic face of the saint as opposed to the grotesque faces of the old, male judges. Making a perfect copy of the place of the enquiry, keeping Falconetti's face makeup free, and having her speak Joan's actual words from the inquiry in Rouen in 1431, were crucial for Dreyer. In this manner, he made her human and ensured future remembrance of Joan of Arc, who was a newly canonised catholic saint (in 1920), and the film is still on many lists of 'must see' films.
Another film which reached larger audiences than The Passion of Joan of Arc, is the short film De nåede færgen (1948) (They reached the ferry) about a couple's speedy ride on a motor bike. Their fast drive in a jazzy style through the Danish landscape is destined to end abruptly – with transportation in coffins. The film was commissioned by the Danish Council for Traffic Security and was rather advanced for its time, but today it is noted more for being one of the first examples of films depicting Denmark.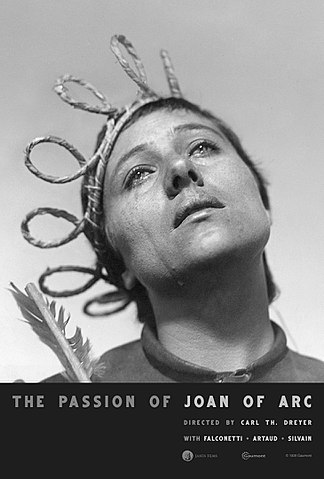 Poster for the new restoration of Carl Th. Dreyer's
landmark silent film The Passion of Joan of Arc.
Photo: AustinCriterion (CC BY-SA 4.0)
The truthfulness of oral confession and bodily affection as opposed to written texts is a recurring motif in Dreyer's accounts of the condition of women. Ordet (1955) ('The word', although the Danish title has been adopted in English) illustrates 'filmic transcendence' as Inger (Birgitte Federspiel) is woken from the dead by her daughter's faith and by St. John's "and the word became flesh".
In Vredens dag (Day of Wrath, 1943), Dreyer studied the lack of emotions and the possibility of supernatural transfer in human relations within the context of witch hunts; and in Vampyr (1932) (Vampire), an almost surreal description of insanity and vanishing subjectivity gives credence to virtual, philosophical powers. His last film, Gertrud (1964), explores the reality and significance of grandiose emotions in individual life. Dreyer died in Copenhagen in 1968.
Ingmar Bergman and Lars von Trier have both been inspired by Dreyer's visual style. von Trier produced Dreyer's script Medea for television (1988), and has often paid tribute to Dreyer's visual motifs and themes, perhaps most strikingly in Breaking the Waves (1996).
Further reading:
B.M. Thomsen, 'On the Transmigration of Images: Flesh, Spirit and Haptic Vision in Dreyer's Jeanne d'Arc and von Trier's Golden Heart Trilogy', in C. C. Thomsen, ed., Northern Constellations: New Readings in Nordic Cinema (Norwich: Norvik Press, 2006).
Det Danske Filminstitut [The Danish Film Institute], Carl Th. Dreyer: The man and his work