Dirch Passer (1926-1980)
Danish comedic actor Dirch Passer became hugely popular for his slapstick humour and play with words.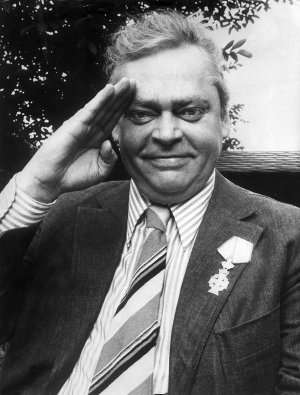 The Danish actor Dirch Passer was born in Copenhagen in 1926. He trained as an actor at Frederiksberg's Theatre in Copenhagen and made his stage debut in 1949. With Kjeld Pedersen he formed the duo Kellerdirk-Bros and became famous in revues presented throughout the country from 1955-58. Passer was soon the best loved comedian in Denmark. The drawback was that it became almost impossible for him to star in serious plays.
He acted in 89 films and successfully developed what was perceived as a typically Danish humorous style, both in the character of the slapstick hero in comedies such as Charles tante (Charles' aunt, 1958) and Baronessen fra benzintanken (The Baroness from the Gas Station, 1960), and in a few performances in films about urgent social issues, e.g. Peters baby (1961) (Peter's baby). He also appeared in a television series, En by i provinsen (1977-80) (A provincial town) and in eight Swedish films.
Passer was awarded two Bodil statuettes over the course of his career. He died in Copenhagen in 1980. Excerpts from his many sketches continue to be shown on Danish television, and in 2011, Martin Zandvliet's film Dirch appeared, which was dedicated to his life and starred Nikolaj Lie Kaas as Dirch Passer.
Further reading:
J. Sundholm et al., Historical Dictionary of Scandinavian Cinema. (Lanham, MD: Scarecrow Press, 2012).
Det Danske Filminstitut [The Danish Film Institute], Dirk Passer