Einojuhani Rautavaara (1928–2016)
Einojuhani Rautavaara is one of the best-known Finnish composers of the twentieth century. Perhaps most famous globally for his Seventh Symphony, the Angel of Light, he made use of many different musical styles and techniques in a variety of genres, and was not afraid to go against musical trends in composition.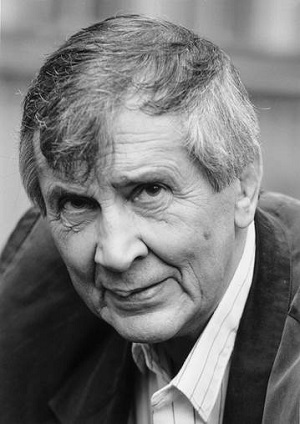 Born in Helsinki to music-appreciating parents, he took a degree from the Sibelius Academy in 1958 and pursued studies in Vienna, the United States (including with Aaron Copland), and Germany. Rautavaara's first success can be said to have come with his A Requiem in Our Time (1953), which won a composition competition in the United States in 1954. Much of his international fame comes from his Seventh Symphony, the Angel of Light (1994), part of his 'angel series'.
Use of a wide variety of techniques and genres
Rautavaara's composing began in the 1950s (Symphony No. 1, 1956) and extended into the years prior to his death in 2016 (Fantasia for violin and small orchestra, 2015). During his long musical career, Rautavaara experimented with and made use of many musical styles and techniques in a variety of genres and with many approaches from symphony to opera. Some well-known examples from his prolific production include Cantus Arcticus (1972), a concerto for birds and orchestra, Thomas (1982–85), a three-act opera in Finnish and German, and Incantations (2009), a percussion concerto. Rautavaara received numerous awards and honours for composition and recording. As a Finnish composer, and one who achieved a high level of recognition, Rautavaara was frequently compared to his countryman Jean Sibelius (1865–1957).
Not afraid to go against musical trends in composition
Rautavaara stood out among many of his contemporaries in his approach to tonality and musical form. Even in composing pieces called 'symphonies' Rautavaara was bucking a trend in international composition. Mid-century modernist composers resisted or subverted what were seen as traditional approaches to tonality and musical form. Rautavaara, however, remained confident in his approaches to symphonies and concertos. His Symphony No. 3 (1961), for example, is a tonal composition that follows traditional symphonic form with its four movements. Also historically traditional and referential is Rautavaara's use of German tempo descriptions for each movement: the first movement is 'langsam, breit, ruhig' ('slow, expanded, quiet'). Less traditional and even surprising, especially for Finnish composition of the day, is Rautavaara's use of serialism while evoking the late Romantic work of Austrian composer Anton Bruckner.
Influence of the mystical
Although he took inspiration from many sources, including serialism, Gregorian chant, and Romanticism, many of Rautavaara's works have often been described as 'mystical' because of his allusions to religion and spirituality. In an article in Contemporary Music Review, Rautavaara sought to understand and describe his interest in 'the sacred'. Grounded in his native 'Lutheran Finland', Rautavaara wrote that his:
"philosophy of the sacred is nevertheless not an expression of any particular religion; it is what [German philosopher and theologian Friedrich] Schleiermacher calls 'a taste for the infinite'"
Further reading:
Einojuhani Rautavaara, 'On a Taste for the Infinite.' Contemporary Music Review 12, 2 (1995), pp.109–15
Guy Rickards, 'Einojuhani Rautavaara Obituary.' The Guardian, July 28, 2016, sec. Music.