Fusion of art and nature along Norway's scenic routes
A national initiative developed by the Norwegian Public Roads Administration (NPRA) from the 1990s onwards creates numerous artistic, architectural, and landscape design experiences located along scenic travel routes in Norway's striking and dramatic natural settings. Intended to increase access and bolster businesses in the rural countryside, the initiative has produced a constellation of cultural, artistic, and environmental projects which have resulted in increased tourism throughout the country.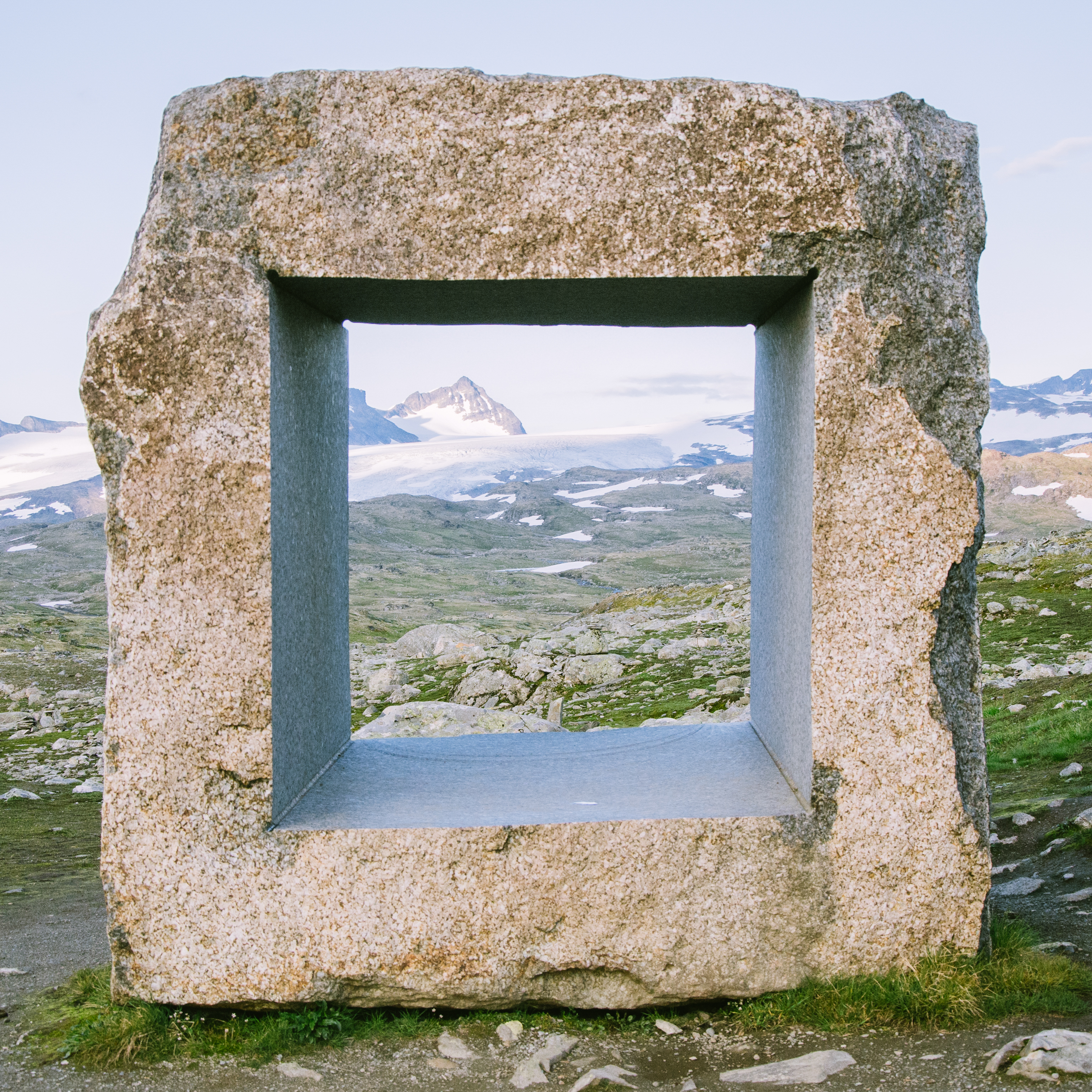 Norway's National Tourist Routes, or Scenic Routes, comprises 18 routes that weave along 1,850km of the country's rugged, picturesque landscapes together with tourist-friendly facilities and amenities designed by artists and architects. Begun in 1994, the initiative instigated by the Norwegian Public Roads Administration (Statens Vegvesen) has built over 150 shelters, scenic lookouts, hiking trails, rest areas, and bird watching pavilions, among other facilities, located along Norway's winding and scenic backcountry roads.
Fusion of design and nature
With nature being the primary attraction, tourism is among Norway's fastest-growing and important industries and was ranked 17th internationally in 2008. The intent of the scenic routes initiative was to strengthen travel and tourism in rural areas by creating distinctive and memorable combinations of nature, the open road, and art and architecture. By emphasizing small-scale, landscape and place-specific designs and incorporating a high level of innovation, the works are sensitive as well as striking; they enrich, frame, embrace, and accent the sites they are situated in. The works are as much a draw as the scenery - together nature bonds with art and architecture.
Todd Saunders & Tommie Wilhelmsen, Stegastein Lookout (2005), Aurlandsfjour. Photo: Krysta Mae Dimick
Nature as a Norwegian preoccupation
Closeness with nature is often cited as an instrumental Norwegian value; unspoiled nature is a national symbol. Nature's prominence in the psyche of many Norwegians can be attributed to its sparse population, harsh climate, and relative isolation from Europe, at least from a historical perspective. Its diverse, rugged and majestic landscape have been venerated by Norwegian poets, painters, and musicians, not least in forging narratives of national identity.
Origin of the Norwegian scenic routes
In 1998 the Storting (Norway's parliament) called for national nominations to propose scenic routes for consideration, and 18 were selected in 2004. The main purpose of the project was to contribute to viable business and industry while increasing tourism in rural areas. A coordinated development of tourist accommodations, cultural activities, sale of local arts and crafts, and natural experiences resulted. In 2019 over 150 structures exist, with the completion of 249 projected by 2023. In 2015 the cost of the project had reached 800 million Norwegian kroner (?100 million); which included monies from other public sources beyond the NPRA.
In the desire to lure more tourists to remote areas, it was recognized early on that using outstanding art, architecture, and landscape design would be an effective draw. The built works would facilitate the experiences with nature while being attractions in their own right. At the same time, the works were to reinforce the character of the route, its specific landscape, while capturing each site's uniqueness and mood.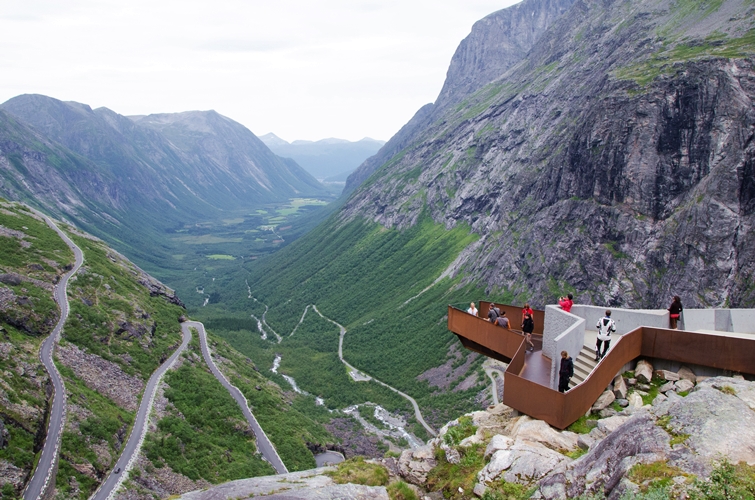 Reiulf Ramstad Arkitekter, Trollstigen Visitor Centre (2009), Møre og Romsdal. Photo: Krysta Mae Dimick
Initially the architecture firms were from Norway and young, emerging architectural talent was recognized as being an important part of the procurement process. Today the country's leading firms have participated in producing many of the works. Only recently have international names been added, such as Swiss architect Peter Zumthor, the late French-American artist Louise Bourgeois, and American artist Mark Dion.
But the project is not without criticism: One can question whether commissioning architecture and art on this scale is a responsible act as it encourages more car-based tourism in current times. And, while Norway's rural landscape may be able to accommodate such increases today, how long might it last, and at what cost?
The architecture on the Norwegian scenic routes
There is a great variety in the scale and scope of the architecture and landscape architecture projects:
3RW Arkitektur and Smedsvig Landskap's Ørnesvingen Viewpoint (2005) overlooking Geirangerfjord
Askvågen viewpoint (2006) near Møre og Romsdal
the restrooms at Hereiane (2007) in Hardanger
Aurora Landskap's platforms (2007) viewing Devil's Teeth cliffs on Senja Island
Pushak Architects' Snefjord rest stop (2005)
Todd Saunders & Tommie Wilhelmsen's curving Stegastein lookout (2005) viewing Aurlandsfjord and Saunders Solberg Tower and rest area (2010)
Snøhetta's Eggum (2007) in the Lofoten Islands
Reiulf Ramstad Architects' Trollstigen visitor centre (2009) at Møre og Romsdal
Gaularfjellet viewing platform (2009) at Sogn og Fjordane
the walkway and spaces of seaside Selvika (2012)
the Troll Wall restaurant and visitors centre (2011) near Trollstigen
the gold-plated faceted restroom (2014) at Ersfjordstranda by Tupelo Arkitektur
70°N arkitektur building for cyclists (2005) at Grunnfør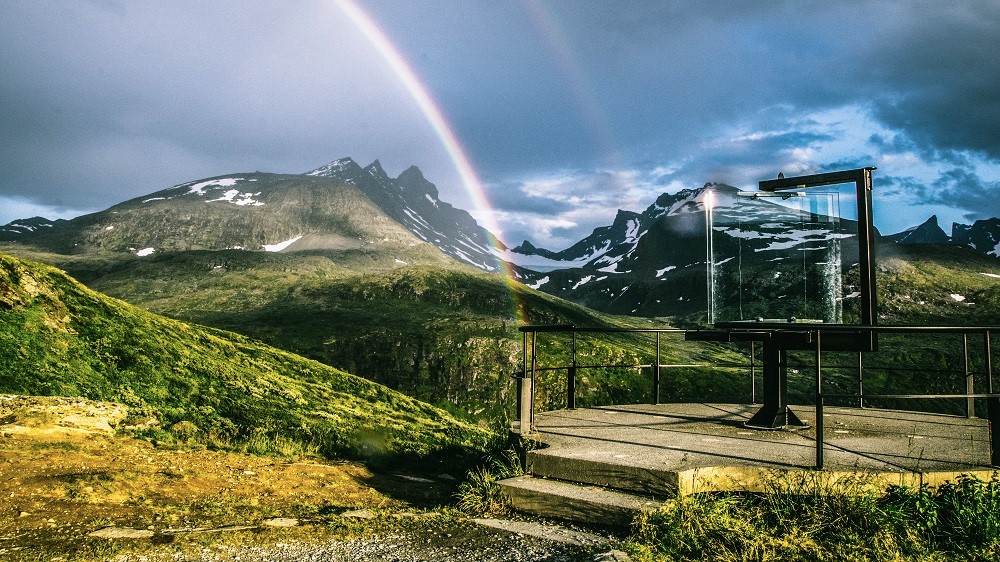 Carl-Viggo Hølmebakk, glass telescope (1997), Nedre Oscarshaug. Photo: Krysta Mae Dimick
The art on the Norwegian scenic routes
Carl-Viggo Hølmebakk's conceptual glass telescope (1997) in Nedre Oscarshaug and Sohlbergplassen viewpoint (2005) in Atnasjön
Kurt Wold's stone sculpture (1997) framing the Fanaråken glacier in Mefjellet
Mark Dion's "Den" (2012) in Vedahaugene.
Further Reading
D. Sokol, Nordic Architects (Stockholm: Arvinius Förlag, 2008).
D. Sokol, Nordic Architects: Ebbs & Flows (Stockholm: Arvinius + Orfeus Publishing, 2013).
K. Kjeldse et.al., New Nordic Architecture & Identity (Humlebæk, DK: Louisiana Museum of Modern Art, 2016).
Nasjonale turistveger / Die Norwegischen Landschaftsrouten / National Tourists Routes in Norway (Oslo: Statens Vegvesen/ Forlaget Press, 2016, 255 pp).
N. Berre, H. Lysholm, J. Stoffenberg, and M. M. Kleppa, eds., DETOUR: Architecture and Design Along 18 National Tourist Routes in Norway (Oslo: Statens Vegvesen/Norsk Form, 2010, 213 pp).
W. C. Miller, Nordic Modernism: Scandinavian Architecture 1890-2015 (London: Crowood Press, 2016).
Links