Gro Harlem Brundtland (b. 1939)
Gro Harlem Brundtland is an internationally recognised Norwegian politician and environmentalist known for her advocacy of sustainability, public health and human rights. Among a number of public offices, she served as Prime Minister of Norway for ten years.
Gro Harlem Brundtland is an iconic figure in her native Norway and can be described as one of its most influential leaders. Internationally, she was a proponent of the Nordic social model, spurring discussions on social equality and human rights, as well as a vision for peace and justice. She is perhaps most famous for her vision and work with respect to sustainable development; while her aims have not yet been realised, her leadership within the World Health Organisation and the United Nations certainly stirred discourse and action where it did not exist before. For her work within human rights and equality, particularly with public health, and as the first female Prime Minister of Norway, she is also widely acknowledged in the Nordics and elsewhere as an important proponent of women's rights.
Early life and medical training
She was born in Bærum, Norway, in 1939, into a prominent social democrat family. The daughter of Norwegian physician Gudmund Harlem, she was exposed to health care issues in her formative years, and since her father was also politically active, she observed political activism and engaged in political conversations at an early age. Her mother, Inga Margareta Elisabet Brynolf, born in Sweden, studied law and worked periodically for the parliamentary group of the Norwegian Labour Party. Her father served in the Norwegian government in two roles, first as Minister of Social Affairs (1955-1961) and then as Minister of Defence (1961-1965). At the age of seven, Gro joined the Norwegian Labour Movement (children's group) and throughout her political career and beyond, she has remained a member of the Labour Party. She served as head of the Norwegian Labour Party from 12 September 1979 to 25 October 1996, and led it to three national election victories. Brundtland served in public office for more than 20 years with 10 of those as Norway's Prime Minister.
Brundtland received her medical degree from the University of Oslo in 1963, and her Master of Public Health degree on scholarship from Harvard University in 1965. While at Harvard, her vision of the place of medicine being alongside environmental and human development issues began to take shape. Returning to Norway, she practised medicine for nine years, worked as a consultant to the Ministry of Health in Oslo (1965-67), as medical officer for the Health Department of Oslo (1968-69), and Deputy Director of the Oslo School Health Services from 1970. She concentrated on children's diseases, breastfeeding, and other child health-related issues. She worked in the children's division of Oslo City Hospital and the National Hospital of Norway.
Domestic political career from 1970s: first Norwegian female Prime Minister
In 1974 she became Minister of the Environment, a post she held for five years. In that position, the Hardanger Plateau was designated a national park and she successfully marshalled forces to battle acid rain. She also reacted decisively and rapidly in 1977 in preventing a North Sea oil platform leak from becoming an environmental disaster. Her passion for public health and the environment were a natural fit to the position.
When first elected in 1981 at the age of 41, she was Norway's youngest and first female Prime Minister. As well as dealing with the usual political issues facing a leader of the government, critics were harsh in drawing attention to her clothing, hairstyle, speech, and manner of leading, but she saw this as an opportunity to advocate for women's equality and rights.
Brundtland served three terms as Prime Minister of Norway:
from 4th February 1981 to 14th October 1981;
9th May 1986 to 16th October 1989;
9th May 1990 to 24th October 1996.
As Prime Minister, she made a concerted effort to promote representation of women in politics, appointing eight women to her cabinet of eighteen in her second term (1986-89). She advanced policies that strengthened childcare in Norway and in 1990 introduced the Ministry of the Child as a formal governmental body. On the international front, she supported the creation of the European Economic Area in 1991 and the entry of Norway into the European Economic Community. Entry into the Community, however, was voted down by a small margin in a national referendum. Criticism befell her in 1992 when she authorised a resumption of commercial whaling, a move that many saw as at odds with her advocacy for environmental protection. In her third term as Prime Minister (1990-96), Norway became the sponsor of secret peace talks between Yitzchak Rabin, Prime Minister of Israel, and Yasser Arafat, leader of the Palestinian Liberation Organization (PLO). The talks culminated in the signing of the Oslo Accords.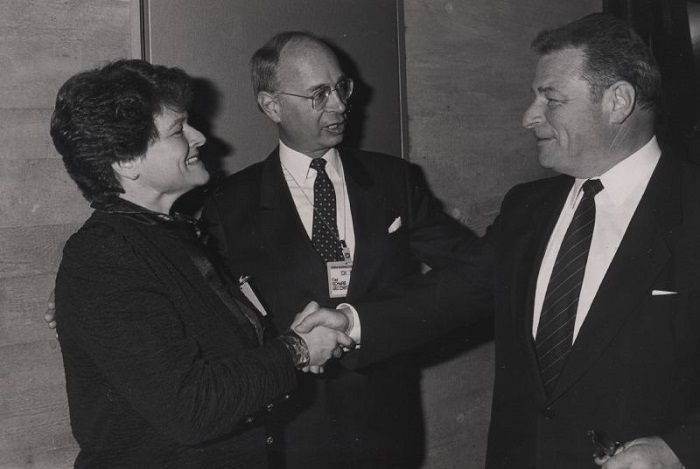 Brundtland greeting Klaus Schwab, founder and executive chairman of the World Economic Forum, at annual meeting in 1989. Copyright World Economic Forum (www.weforum.org) (CC BY-SA 2.0).
International political career from 1980s: 'sustainable development'
In 1983 the Secretary General of the United Nations asked her to establish and lead the World Commission on Environment and Development (WCED). Brundtland assumed the challenge, established and chaired the Commission, led the public hearings, and coined the now common phrase 'sustainable development'. Often called the Brundtland Commission, the WCED published a report on its work in April 1987, Our Common Future. Its recommendations spurred the Earth Summit held at Rio de Janeiro, the U.S. Conference on Environment and Development (1992), and gave momentum to Agenda 21, an action plan for sustainability in the 21st century.
In 1998 the World Health Assembly elected Gro Harlem Brundtland Director General of the World Health Organization (WHO). In her acceptance speech, she articulated her view of the organisation's mission to elevate the place of health and sustainable development on the global agenda:
"I see WHO's role as being the moral voice and the technical leader in improving the health of the people of the world. Ready and able to give advice on the key issues that can unleash development and alleviate suffering. I see our purpose to be combating disease and ill-health—promoting sustainable and equitable health systems in all countries."1
Her leadership revitalised and introduced reforms to the WHO, which had faced both financial and organisational difficulties over many years. She established a Commission on Macroeconomics and Health that addressed, among many things, violence as a public health issue and cigarette smoking as a health hazard. Quick and decisive action in her role as Director General helped to avert a global health crisis tied to the spread of SARS; she also led a tobacco-free initiative and vigorous fights against poverty, famine, and communicable diseases. Battles against malaria and cigarettes have been cited as major WHO achievements under her leadership (1998-2003). She is acclaimed for her ability to address health issues within the broader context of environmentalism and economic development. Her leadership of WHO brought together the various strands of her professional life, certainly her greatest passions; that is, medicine and public health, politics, activism, and environmentalism.
In 2007 she was appointed by the UN Secretary General to serve as a Special Envoy on Climate Change along with Han Seung-soo, former foreign minister of South Korea, and Ricardo Lagos, former president of Chile. The same year, Nelson Mandela convened a meeting of world leaders to constitute The Elders, a group of independent world leaders who "work together for peace, justice, and human rights." In The Elders, Brundtland has served as Deputy Chair and taken an active role in initiatives such as combating child marriage. Brundtland is also a member of the Council of Women World Leaders, a group that concerns itself with female health, sexual violence, and other issues related to women's well-being. As a member of the Club of Madrid, she is involved in efforts to promote and build democratic institutions around the world.
For her tireless work on many fronts, she has been recognised with many honours and awards. She is the recipient of the Indira Gandhi Prize (1988), the Charlemagne Prize (1994), the Thomas Jefferson Foundation Medal in Architecture (2008), the National German Sustainability Award, the Prize International Catalonia with Malala Yousafzai (2013), the Tang Prize in Sustainable Development (2014), and the Mahbub Ul Haq Award for Human Development (2014).
Anders Behring Breivik, a Norwegian nationalist, deplored the influx of immigrants into Norway and blamed the Labour Party and particularly the past leader of the Labour Party, Gro Harlem Brundtland, for Norway's changing ethnic complexion. On 22 July 2011 he detonated a bomb at a government building in Oslo, then drove to the island of Utøya to massacre dozens of young people at the Youth League Summer Camp. He did not succeed in killing his primary target, Gro Harlem Brundtland, who had left the island only two hours prior to his arrival. At his trial, he shared gruesome details of his plan to assassinate Brundtland.
Much of Gro Harlem Brundtland's life has been chronicled in two books written by her husband, political scientist Arne Olav Brundtland, i.e., Married to Gro (1996), and Still Married to Gro (2003). Her autobiography, Madame Prime Minister (2002), deals compellingly with many aspects of her political engagement and public service. Her memoirs also provide insights into the joys and sorrows of her personal life. She was married to Arne Olav Brundtland in 1960 and they had four children, three sons and one daughter. They lost their youngest son, Jørgen, to depression and suicide in 1992.
Further reading:
G. H. Brundtland, Madam Prime Minister (New York: Farrar, Straus and Giroux, 2002).
A. Guilbaud, IO BIO: Biographical Dictionary of Secretaries-General of International Organizations. Edited by Bob Reinalda, Kent J. Kille and Jaci Eisenberg (2014).
B. Jentleson, The Peacemakers: Leadership Lessons from Twentieth-Century Statesmanship (W.W. Norton, 2018).