Ib Schønberg (1902-1955)
Popular Danish actor Ib Schønberg played a rich variety of characters, from frivolous to more profound roles.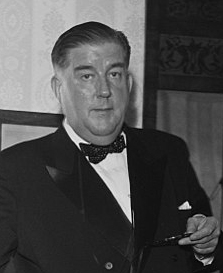 The Danish actor Ib Schønberg was born in Copenhagen in 1902. He began his career as an actor in 1919 at the Theatre of Sønderborg in Jutland and worked in various theatres in the provinces and in Copenhagen before making his debut as a film actor in Benjamin Christensen's Danish-Swedish film, Häxan (1922) (The witch, or Häxan: Witchcraft through the Ages), in which he played the devil.
Schønberg acted in a total of 114 films and became very popular. In the 1930s he often played a jolly and rather plump man with both feet on the ground, but he also showed great talent in his portrayal of a petit bourgeois in Diskret ophold (1946) (Discreet stay), and an alcoholic in Café Paradis (1950) (Cafe Paradise).
Children of all ages loved his version of the absent-minded father of four children in Far til fire (1953) (Father of four) and Far til fire i sneen (1954) (Father of four in the snow), based on a cartoon strip. Schønberg died in Skodsborg in 1955.
Further reading:
J. Sundholm et al., Historical Dictionary of Scandinavian Cinema. (Lanham, MD: Scarecrow Press, 2012).
Det Danske Filminstitut [The Danish Film Institute], Ib Schønberg