Juha Leiviksä (b. 1936)
The architecture of Finnish architect Juha Leiviksä synthesises an abstract modernism with a sensory, experiential expressionism that results in stunning light-filled interior spaces, especially in his religious buildings.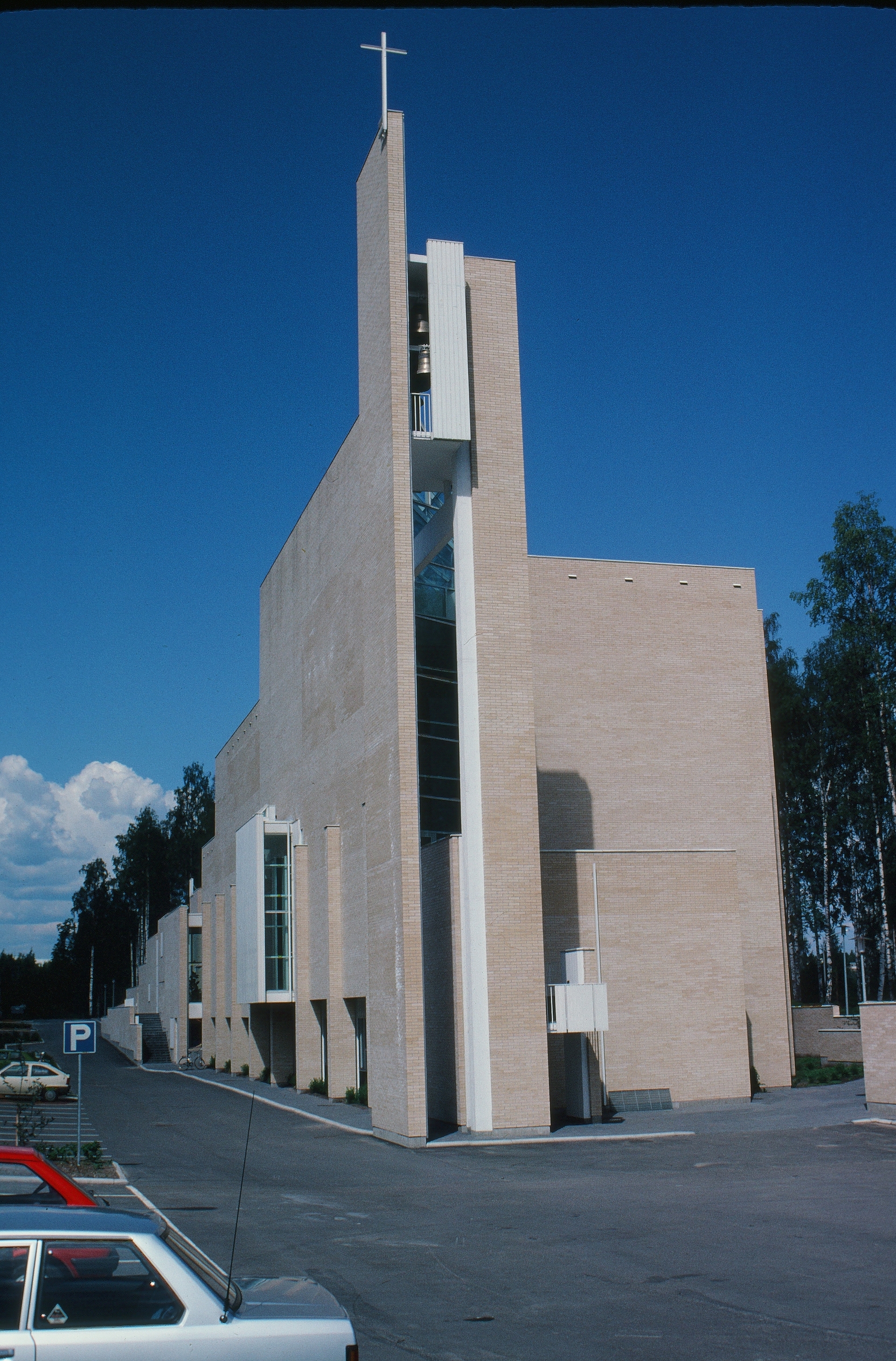 The Finnish architect Juha Leiviskä was born in Helsinki in 1936, and studied architecture at the Helsinki University of Technology. Qualifying as an architect in 1963, he established his office in 1964. An early work, the Kouvola Town Hall (1964-68), designed with Bertel Saarnio and won in competition, is regarded to be one of the most sophisticated public works in Finland of the period. Since 1978 he has been in practice with Vilhelm Helander in Helsinki, in the firm Vilhelm Helander, Juha Leiviksä arkkitehdit SAFA.
Recognised for his responsiveness to Finland's most precious environmental commodity, light, Leiviskä has developed and refined a recurring set of architectural ideas and themes that are realised in his religious and public buildings. His architecture synthesises Finnish vernacular traditions, Dutch De Stijl design concepts, the rationalism of Finnish architect-theorist Aulis Blomstedt's theories, and the expressive, experiential qualities of Alvar Aalto's architecture. Leiviskä's works are characterised by interior spaces composed of layered white planer walls and ceiling elements accentuated by skylights and vertical windows. Like a Baroque church interior, the resulting spatial quality dramatically expresses an experientially meaningful, sophisticated and sensual architectural ensemble for light to dance within.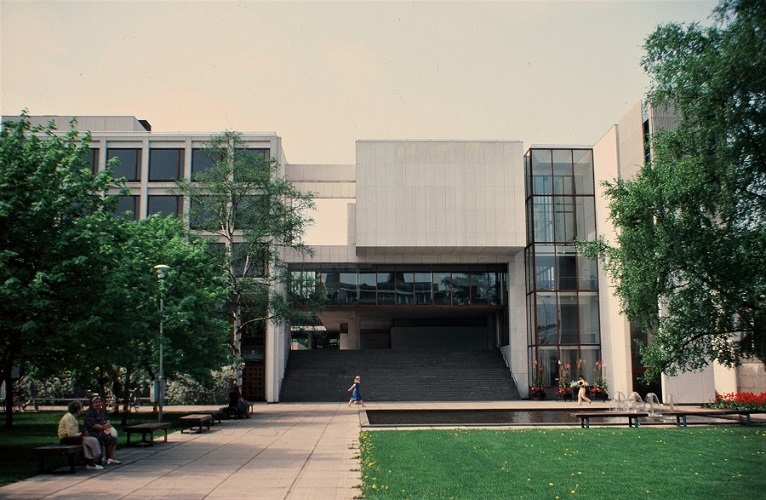 Town Hall (1964-68), Kouvola (with Bertel Saarnio). Photo: author.
The abovementioned qualities are most vividly witnessed in his church and religious architecture:
Nakkila parish centre (1970)
St. Thomas's church and parish centre (1975) in Oulu
Myyrmäki church (1984) in Vantaa
Kirkkonummi parish centre (1984)
Männistö church (1992) in Kuopio
Two churches in Helsinki, both with Vilhelm Helander – the German church and parish centre restoration and extension (2001), and The Church of the Good Shepherd in the Pakilla suburb of Helsinki (2002).
His other public and civic works also incorporate dramatic spatial and formal explorations which include:
The Vallila branch library and day care centre (1991) in Helsinki
The German Embassy in Helsinki (1993)
The Ad-Dar Cultural and Conference Centre (2005) in Bethlehem, Palestine
The Sandels Cultural Centre (2007) in Helsinki with Rosemarie Schnitzler
The Swedish School of Social Science (2009) in Helsinki with Jari Heikkinen
Leiviskä has also designed a series of ceiling mounted pendant light fixtures that are produced by ARTEK. These fixtures are incorporated into many of his religious spaces creating a starry, heavenly atmosphere during the dark Finnish winters.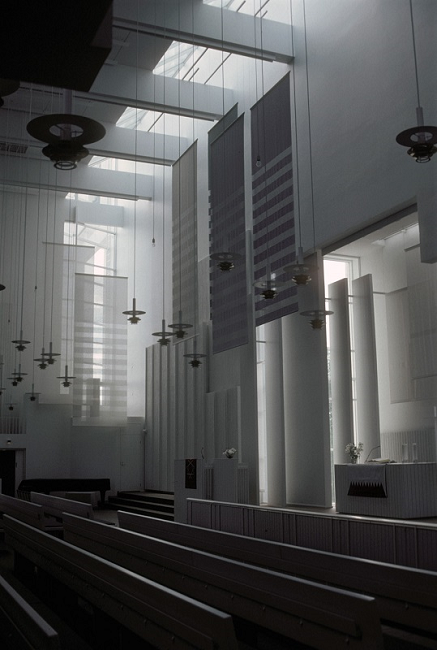 One example of Leiviksä's mastery of light: the interior of
Myyrmäki Church (1984), Vantaa. Photo: author.
Leiviskä has received numerous awards and honours. In 1992 he received the Pro Finlandia Medal and was named Finnish State Artist Professor. He was awarded the Prince Eugen Medal (1994), the Carlsberg Prize (1995), and named a member of the Academy of Finland (1997), among other prestigious prizes and titles.
Further reading:
M-R. Nori and K. Paatero, eds., Juha Leiviskä (Helsinki: Museum of Finnish Architecture,

1999).

M. S. Millet, Light Revealing Architecture (Chicester: Wiley, 1966).

(New York: Wiley, 2001)

R. Connah, Finland: Modern Architectures in History (London: Reaktion Books, 2006).

W. C. Miller, Nordic Modernism: Scandinavian Architecture 1890-2015 (London: Crowood Press, 2016).