Karl Vennberg (1910–1995)
The Swedish poet Karl Vennberg, who was awarded the Nordic Council Literature Prize in 1972, published collections that contained various messages, including criticism towards Western culture and romanticism, and the lauding of everyday life as central.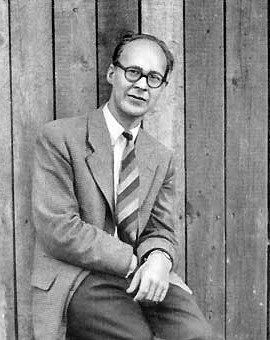 The Swedish poet and translator Karl Vennberg was born in Blädinge, Småland, in 1910. Vennberg's breakthrough came with the collections Halmfackla (1944) (Straw torch) and Tideräkning (1945) (Chronology), the poems of which were characterised by irony and scepticism to established systems of belief and simple solutions. Vennberg participated in the ideological debate during the Cold War and advocated 'the third point of view', i.e. Swedish neutrality. A poem such as 'Om det fanns telefon' (If there was a phone) is paradoxically didactic, the message being that there are no positive messages about Western culture to communicate, with the symbolism of the ending echoing T. S. Eliot. The collection Sju ord på tunnelbanan (1971) (Seven words on the underground) represents a poetic renewal: the attitude to poetry is anti-romantic; communication and everyday life are central and the style is colloquial. The volume was awarded the Nordic Council Literature Prize in 1972. Vennberg was also Sweden's foremost introducer of Kafka. He died in Spånga, near Stockholm, in 1995.
Further reading:
Lars G. Warme, ed., A History of Swedish Literature (Lincoln and London: University of Nebraska Press, 1996).