Nordic museums and their history
National museums in the Nordics retain an important role in the creation and maintenance of a particular view of a country, its people and often its place within the Nordics. This view is presented to both outsiders and the people themselves. In 1800s, Nordic thinkers and museums influenced the inception of national museums elsewhere at a time when 'nationing' narratives was at its height. Whilst perhaps no less important today, these narratives of particular nations are not static and are interpreted dynamically and in various ways and exhibitions. Importantly, museums generally have developed a greater emphasis on and engagement with minority groups, didactics and community outreach (the Nordics being pioneers of the open air folk museum), and issues relevant to a post-industrial society.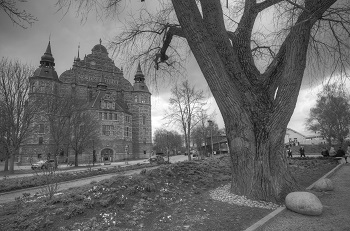 The emergence of national museums in the Nordic region took place in a context of nation-building and formation all over Europe from early 1800s. In addition to housing collections of national importance, they allow particular versions of national histories to be constructed like other national museums elsewhere. These histories are by no means static narratives, but they nevertheless allow a glimpse of the way a nation might wish to be perceived at a given point in time.
The establishment of museums in the Nordics, 1800s onwards
The emergence of 'national museums' in the Nordic region took place in the context of similar developments throughout Europe during the nineteenth century, inspired by such institutions as the Musée des Monuments Français in Paris (1795). In many respects, antiquarians, historians and museologists from the Nordic countries were at the forefront of the development of museums in Europe during this period. Most notably, perhaps, the Danish archaeologist Christian Jürgensen Thomsen (1788 - 1865) not only developed Det Kgl. Museum for Nordiske Oldsager (Museum of Northern Antiquities) in Copenhagen, he also articulated and popularised the 'Three Age' system of museum classification: stone-, bronze-, and iron-ages. The interest in the Norse past in many parts of Europe affected the focus of exhibitions in Scandinavia, as well as the nomenclature of the museums themselves. Stockholm's Nordiska Museet (The Nordic Museum) grew out of the Scandinavian Ethnographic Collection, and was inaugurated in 1880. Christiania (now Oslo) also hosted a University 'Museum of Northern Antiquities'.
The points to note regarding the establishment of other museums in the Nordic area include:
Åland: Åland does not possess a national museum, reflecting its constitutional status as a part of Finland, rather than a self-governing, semi-autonomous nation like the Faroe Islands or Greenland. Although there is a museum and gallery in Mariehamn, Åland is also represented in narratives in the National Museum of Finland, underlined, for example, by the Åland exhibition in 2008.
Finland: Finland's position within 'Northern Antiquity' was less clear. There had been calls for a national museum in Finland from the middle of the nineteenth century, but as with Finnish national identity itself during this period, the actual nature of such a museum was hotly contested. In many respects it provides a classic case study of late nineteenth century debates throughout Europe; the establishment of a museum in Helsinki precipitated arguments over the provenance of potential exhibits, the narration of a national past, and the ethnic and racial decisions which might see material from other Finno-Ugric peoples included, for example. The museum eventually opened in 1916, a year before Finland gained independence, and features many classic elements of Finnish national romantic architecture.
Faroe Islands: The importance of a national museum in the Faroe Islands was recognised in the latter part of the nineteenth century, although it developed mainly after home-rule was granted by Denmark in 1948. The ability to record and present a national cultural identity continues to be a central pillar of nation-building, and the museum in Tórshavn narrates not only the Viking and Medieval past, it situates contemporary Faroe culture in a Scandinavian and North Atlantic context.
Greenland: A museum for Greenland was established in Godthåb (Nuuk) in 1966, achieving the status of national museum following home rule in 1979. The museum provides not only a home for historical and ethnological material; in its negotiations over repatriation of material from Denmark, it has been held up as a possible model for other indigenous peoples and decolonised states.
Iceland: A museum in Reykjavik was founded in 1863. This was only officially designated as the National Museum of Iceland from 1911 as much of the Icelandic material exhibited by the first curator, Jón Árnason, had previously been held in Copenhagen.
Sápmi: The emergence of Sámi museums can be understood in a context of a global shift towards political and cultural re-assertiveness among groups who have traditionally been marginalised or even suppressed by nation states. The National Museum of the Finnish Sámi (Siida) (est. 1959) in Inari, for example, stresses Sámi culture as part of a much wider circumpolar world, rather than as peripheral in the mental mapping of those in the Nordic state capitals.
Folk museums pioneered in the Nordics
Museologists from the Nordic region were also pioneers in open air 'Folk Museums', the earliest having been established in Christiania (now Oslo) in 1881, as part of a collection under the patronage of King Oscar II. Inspired partly by the Norwegian model, the Swedish folklorist Artur Hazelius (1833 – 1901) founded Skansen, on Stockholm's Djurgården, in 1891. Not only was Skansen a success within Sweden and the wider Nordic region, it provided a model for other open-air museums throughout the world, and indeed the word 'skansen' has even been adopted as a noun in some areas to refer to open-air or folk museums. A similar collection at Helsinki's Seurasaari was founded in 1909, some years before the official opening of the National Museum.
Themed museums since the Second World War
The period since the Second World War has seen the emergence of more specifically themed national museums, such as those dealing with military matters, or sports. Museums celebrating the lives of national heroes have also become increasingly prominent. These include Ibsen, Grieg and Munch in Norway; Sibelius, Mannerheim, and Kekkonen in Finland; and Strindberg and ABBA in Sweden. Copenhagen's Thorvaldsens Museum (Thorvaldsen Museum) has been a major tourist attraction since the mid-nineteenth century, and a museum devoted to Karen Blixen opened at Rungstedlund in 1991.
Common Nordic identity discernable – even in remembrance of past separations and conflicts
Although often products of, or contributors to, nation-building processes, elements of transnational Nordic identities can be observed in different museums at different times. Indeed, the Nordic Council views the cultural and heritage sector as a vehicle for a common Nordic identity, claiming that, "the Nordic countries share a common cultural heritage which continues to create Nordic identity." Even within national institutions, transnational trends can be discerned. The centenary of the "velvet divorce" between Norway and Sweden in 2005, for example, saw a major exhibition on 'Norwegians and Swedes, 1814-2005'. Although the centenary was of a parting of the ways between the two nations, there was still a great emphasis on the shared values thought to exist between these kindred peoples. Similarly, 2009 was the bicentenary of the Treaty of Fredrikshamn, which saw Sweden lose Finland to Russia. The Finnish National Museum and Livrustkammaren (Royal Armoury) in Stockholm hosted a major bilateral exhibition on the subject, underlining the shared history and material culture of the two nations.
'Nationing' narratives thus remain an important element in the museums' overall role, particularly for sub-national communities without full political or constitutional sovereignty.
Community outreach and engagement with post-industrialised society
Today, outreach to the community underpins a great deal of museum activity (the continued importance of which was highlighted by the debates in Sweden over the imposition of entry fees to state-owned museums in 2006-7). The preservative function, recognised by the likes of Hazelius, also remains important, with museums seen as a means of preventing traditions and cultures from passing out of existence.
Whereas the Swedish Skansen and other folk museums sought to preserve rustic folk memories, museums in the twenty-first century are also required to engage with a post-industrial society. Institutions such as Norrköping's Arbetets museum (Museum of Work) or Bergen's Norges Fiskerimuseum (Norwegian Fisheries Museum) showcase historic industries but also prompt visitors to reflect upon the role of certain industries in the local, national or international society and economy.
The importance of attracting and informing tourists has been acknowledged since the earliest days of museums in Europe. Attractions such as Vasamuseet (Vasa Museum) in Stockholm continue to fascinate tourists, and the nineteenth-century interest in Vikings endures, ensuring the development and maintenance of such institutions as Vikingskipshuset (Viking Ship Museum) in Oslo and Vikingeskibsmuseet (Viking Ship Museum) in Roskilde. While the portrayal of historic borders and national minorities will remain contested in national institutions, it seems clear that in addition to the economic function of promoting tourism in their respective localities and nations, national museums retain an important role in the creation and maintenance of a particular view of a country and its people, a view which is presented to both outsiders and the people themselves.
The emergence of national museums in the Nordic region took place in a context of nation-building and formation all over Europe from early 1800s. In addition to merely to housing collections of national importance, these Nordic museums, like most national museums, allow particular versions of national histories to be constructed. These histories are by no means static narratives, but they nevertheless allow a glimpse at the way a nation might wish to be perceived at a given point in time.
Examples of museums in the Nordics today
Museums are widely distributed, and visited, throughout the Nordic region. They take a number of forms, from narrowly themed local establishments to large national or regional institutions. In the early twenty-first century, museums of national importance in the Nordic capitals include:
Copenhagen: The National Museum (Nationalmuseet); Design Museum, Denmark (Designmuseum Danmark)
Helsinki: The National Museum (Kansallismuseo); Ateneum Art Museum (Ateneum)
Oslo: The National Museum for Art, Architecture and Design (Nasjonalmuseet for Kunst, Arkitektur og Design); The Norwegian Museum of Science and Technology (Norsk Teknisk Museum); Historic Museum (Historisk Museum)
Nuuk: The Greenlandic National Museum (Nunatta katersugaasivia allagaateqarfialu)
Reykjavik: National Museum of Iceland (Þjóðminjasafn Íslands)
Stockholm: National Museum of Fine Arts (Nationalmuseum); The Nordic Museum (Nordiska Museet); The Swedish History Museum (Historiska Museet)
Torshavn: National Museum of Faroe Islands (Føroya Fornminnissavn).
The Sámi population, dispersed between three of the Nordic states, has museums in Inari, Finland (Siida, which self-identifies as the 'National Museum of the Finnish Sámi'), as well as the Swedish Mountain and Sámi Museum (Ájtte Museum in Jokkmokk, Sweden) and Finnmark's RiddoDuottarMuseat consortium (Norway)
There are also museums that engage with the Scandinavian emigrant experience, both in terms of individual nationality or with a shared 'Nordic' perspective. These include, inter alia: The Nordic Museum (Seattle, WA); Vesterheim Norwegian-American Museum (Decorah, IA); Museum of Danish America (Elk Horn, IA) and many sites relating to Swedish- or Finnish American heritage.
Further reading:
Katherine Goodnow and Haci Akman, eds., Scandinavian Museums and Cultural Diversity (New York: Berghahn Books, 2008)
Peter Aronsson and Lizette Gradén, eds., Performing Nordic Heritage: Everyday Practices and Institutional Culture (Farnham: Ashgate Publishing, 2013)
Simon J. Knell, ed., National Museums: New Studies from Around the World (London: Routledge, 2010)
Robin Ostlow, ed., (Re)Visualizing National History: Museums and National Identities in Europe in the New Millennium (Toronto: Toronto University Press, 2008)