Povel Ramel (1922-2007)
Povel Karl Henric Ramel was a Swedish singer, pianist, revue creator, author, composer, and comedian famous for his playful style, intelligent lyrics, imitations and parodies, and legendary musical revues. His work was deeply influential for Swedish comedy and entertainment.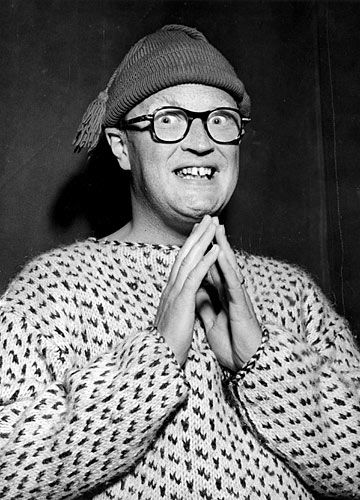 Ramel was born in Stockholm into an aristocratic family but orphaned at age 15 when his parents were killed in a traffic accident. This early tragedy led him to devote his life to joy and humor. Early musical influences include Bing Crosby, Fats Waller and Spike Jones. Ramel's first recorded songs Vårt eget Blue Hawaii (1942)(Our own blue Hawaii) and Johansson's Boogie Woogie Waltz (1944), his first chart hit, already reveal his outstanding talent in music, humor and clear enunciation.
Humorous and popular songs and radio shows, which nevertheless perplexed the critics, preceded his cabaret show, Knäppupp (1952-68)(Unbutton). Knäppupp toured Sweden in the summer and resided in Stockholm in the winter, achieving great success despite his basically apolitical stance. These were followed by: shows in restaurants; additional humorous radio and television programs; films (Ratataa eller The Staffan Stolle Story (1956) won best Swedish movie); and recordings showcasing his ingenious parodies of style (especially of banal pop music hits), unusual melding of music and text, and nonsense song. In his books as well, e.g Lingonben (1979) (Lingonberry legs), his unique humor and uncanny skill at language manipulation shine. In the 1990s, he also wrote more serious autobiographical books.
Ramel received a number of awards and honorary doctorates for his work. In 1982, he established his own prize, Karamelodiktstipendiet, for innovative use of the Swedish language or achievements in music by young artists. Awardees receive both a monetary prize and a large bag of candy (karameller); since Ramel's death in 2007, his children Mikael and Lotta have awarded the prize on their father's birthday.
Further reading:
Povel Ramel, Följ mej bakåt vägen [Follow me backwards] (Stockholm: Norstedt, 1992).