Thor Heyerdahl (1916-2002)
The Norwegian scientist Thor Heyerdahl was internationally renowned for leading expeditions across vast oceans in rudimentary vessels.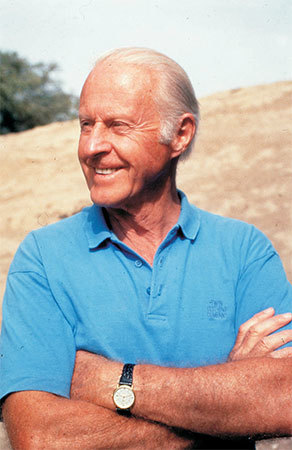 Thor Heyerdahl was a Norwegian explorer and scientist who rose to international fame following his 1947 Kon-Tiki expedition and the subsequent bestselling book and Oscar-winning film of the same name. The purpose of the expedition was to prove that migration from South America to Polynesia could have taken place in precolonial times by crossing the Pacific Ocean on a raft.
Heyerdahl later took the initiative to and led other expeditions of similar scope, notably with the reed boats Ra I and Ra II (1969–70) from North Africa to South America, and Tigris (1978), with which he crossed the Indian Ocean from Iraq via North-East Africa to Pakistan. He deliberately burned Tigris in Djibouti on the return journey, as a protest against wars in the region.
Apart from his expeditions, Heyerdahl also directed archaeological excavations on Easter Island, Tenerife and the Maldives, in Peru and Azerbaijan. His most famous books, Kon-Tiki and Aku-Aku, have been translated into more than 60 languages. Although his theories about cultural diffusion were rarely approved of by the scientific community, they inspired a great deal of research, not least at the Kon-Tiki Institute in Oslo.
Further reading:
Thor Heyerdahl, In the Footsteps of Adam: A Memoir (London: Abacus, 2001).