Tove Jansson (1914-2001)
Writing in Swedish, the Finnish writer-illustrator Tove Jansson is most famous for her creation of the mythical creatures The Moomins.
Tove Jansson was a Finland-Swedish writer and artist, born in Helsinki in 1914. She is renowned the world over for her Moomin books, written in Swedish and translated into at least 35 languages. She also published novels, for example Sommarboken (1972) (The Summer Book, 1974); autobiographical texts such as Bildhuggarens dotter (1968) (Sculptor's Daughter, 1969); and drama for the theatre, radio and television. As a visual artist, Jansson was close to the symbolists and enjoyed a relatively high reputation.
In the nine books about the Moomin family, beginning in 1945 with Småtrollen och den stora översvämningen (The Moomins and the Great Flood, 2005) and ending in 1970 with Sent i november (Moominvalley in November, 1971), all the characters in the Moomin valley represent different philosophical approaches to life. The world Jansson created is a liberal and old-fashioned community in which individual freedom, tradition and guardianship combine in an almost aristocratic way.
In the 1930s and 1940s Jansson was involved in a left-wing cultural and intellectual movement and contributed to the radical newspaper 'Ny Tid' (New Times). She subsequently became more liberal and bohemian. The title of a book with quotations from her writings, Allt som är trevligt är bra för magen (2002) (Everything nice is good for your stomach), expresses the philosophy of the elderly Jansson for whom smoking, drinking and novel-reading represented the fulfilment of a philosophical life.
Jansson's numerous awards included the Nils Holgersson Prize (1953), the Hans Christian Andersen medal (1966), the Pro Finlandia medal (1976), and the Swedish Academy Award (1994). She died in Helsinki in 2001.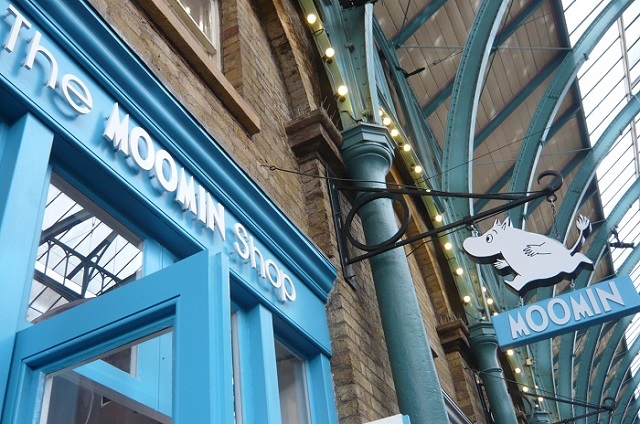 The Moomins and Moomin-memorabilia have become a major commercial success in many
countries. Depicted is The Moomin Shop in Covent Garden, London, 2011. Photo: G Travels
(CC BY-NC 2.0)
Further reading:
W. G. Jones, Tove Jansson (Boston: Twayne, 1984)