Jan Eliasson (b. 1940)
Jan Eliasson has been one of Sweden's most prominent diplomats since as far back as the 1970s. Not only has he served in key roles for the Swedish Foreign Ministry and international organizations, but he is also renowned for his role as a mediator in numerous conflicts. His support for the concept of conflict prevention within the Swedish Ministry of Foreign Affairs (MFA) and for human rights in general, arguably, helped to develop new global norms. Among his many roles, he served as Deputy Secretary-General of the United Nations from 2012 to 2016.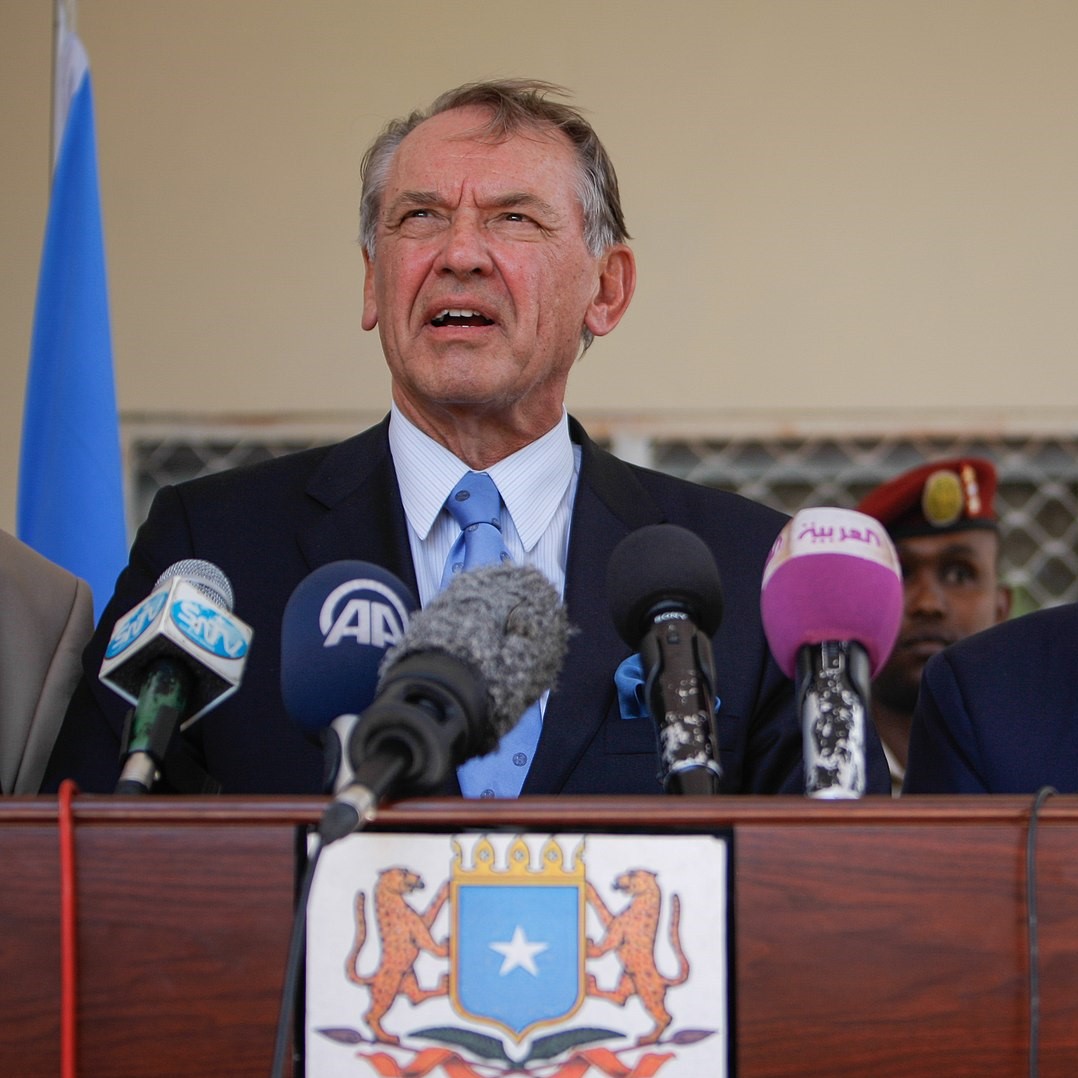 Jan Eliasson, Sweden's most renowned modern-day diplomat, has exemplified the reputation of Nordic diplomacy over the past 40 years. He has been most notable internationally for mediation in various conflicts from the Iran-Iraq War in the 1980s to the conflict in Darfur in the 2000s. He has worked as a mediator for both the United Nations and the Organization for Security and Co-operation in Europe (OSCE). However, he also played a more unseen role in the development of the Swedish government's concept of conflict prevention, as well as the promotion of norms on human rights in the United Nations. Eliasson has also been a tireless campaigner for the world's poor to have access to clean water and sanitation.
Early exchange to the US was a harbinger of later international work
Born in Gothenburg in south-west Sweden in 1940, Jan Eliasson was the son of working-class parents. His father was a metal worker and union member, while his mother worked as a seamstress. A gifted student, Eliasson was selected to take part in a student exchange programme with the United States in 1957, where he spent a year in Decatur, Indiana with an American family. During his time in the U.S. he briefly met the future American president, Senator John F. Kennedy, at a Democratic party fundraiser. In 1962, Eliasson graduated from the Swedish Naval Academy and became an officer in the Swedish Royal Navy. In 1965, he completed a master's degree in economics and in September of that year he passed the entrance exam for the Swedish diplomatic corps. Noted early on as being a rising star, Eliasson was First Secretary in Sweden's embassy in the United States in the early 1970s. This was during President Nixon's administration and one of the most antagonistic periods in the history of Swedish-American relations, a time when the Social Democratic government of prime minister Olof Palme was highly critical of the U.S. war in Vietnam. In 1980, Eliasson was already prominent enough to be given the job of opening Sweden's first embassy in the newly renamed state of Zimbabwe as it transitioned from white minority to black majority rule.
Diplomacy and mediation for conflict prevention and humanitarian assistance, 1980-2005
Jan Eliasson's first experience in mediation came in the early 1980s. He was personal advisor to the United Nations Secretary-General Special Representative to Iran and Iraq, the late Olof Palme, who made numerous visits to the Middle East in an effort to mediate a peaceful conclusion to the Iran-Iraq War until his assassination in 1986. After serving as the Director-General for political affairs in Sweden's Ministry of Foreign Affairs 1983-1987, he became Sweden's Ambassador to the United Nations in 1988. In the same year, Eliasson was also chosen as the UN Secretary-General's Personal Representative to Iran and Iraq. His attempts to mediate an end to the Iran-Iraq War included over 24 hours of direct talks with the Iraqi leader Saddam Hussain.
During the 1990s, Eliasson, in his capacity as Chair of the United Nations General Assembly's (UNGA) committee working on emergency relief, was one of the driving forces behind UNGA Resolution 46/182, which created the United Nations Department of Humanitarian Affairs (DHA) in 1992. A journalist who covered the UN at the time noted how Eliasson excelled at "person to person diplomacy. He's a star". He took charge of the new department, becoming the UN's first Undersecretary for Humanitarian Affairs and served until the end of 1993. During this time he mediated in the humanitarian crises in Myanmar and Sudan, and worked to secure the return home of refugees, as well as the safe delivery of international aid.
PICTURE: Iranian trops in the Iran Iraq War. Photo: Comandernavy. Wikimedia Commons, Public Domain.
After the end of his term with the UN, in 1994, Eliasson was elected chairman of the Minsk Conference, an OSCE committee that was given the task of mediating a solution to the Nagorno-Karabakh conflict between Azerbaijan and its ethnic Armenian minority, which was being supported by neighbouring Armenia. In the same year, Eliasson also spent time as a visiting professor at Uppsala University lecturing on mediation and working on strategies for conflict prevention. In 1994 he took on the position of state secretary to Sweden's Ministry of Foreign Affairs, effectively becoming Sweden's deputy foreign minister and its most senior non-political diplomat. During his time as state secretary, Eliasson was a key figure in the formation of Sweden's conflict prevention agenda, the programme for which was released by the Swedish government in 1999. It became particularly prominent in the first half of 2001 when Sweden was able to put conflict prevention at the top of the agenda of the European Union when it held the rotating EU presidency at the time. Eliasson also led Sweden's successful campaign to gain a non-permenant seat on the United Nations Security Council (UNSC) in 1997-98, gaining the votes of 153 countries out of 181 UN members.
In 2000, he took up the post of Sweden's Ambassador to the United States, a position that could be considered, if not a demotion, at least somewhat of a sideways career step. Nevertheless, Eliasson did much to elevate Sweden's position in the U.S. by garnering a network of acquaintances within Washington's high society. He was a relentless supporter of the idea of a new flagship Swedish embassy in the United States. The House of Sweden (HoS) embassy, which opened a year after Eliasson left Washington in 2006, has been described as "Jan Eliasson's baby". Costing nearly half a billion Swedish krona, it has been called "the most ambitious public diplomacy project ever undertaken by a Swedish foreign mission".
PICTURE: Jan Eliasson (right) in company with José Manuel Barros. Photo: Georges Boulougouris, European Commission Audiovisual Service.
Despite the Swedish government's criticism of the U.S.-led war in Iraq and its moralistic concerns over the trajectory of the so-called War on Terror (not to mention Eliasson's own history of peace mediation), a lot of his time in Washington was ironically spent lobbying for Swedish defence companies, in an effort to gain contracts and a slice of the huge U.S. Homeland Security and Defence budgets.
Charisma: the key to international diplomacy or a tool to climb the ladder?
Endorsed by most western European countries, Eliasson became the president of the UN General Assembly for its sixtieth session from September 2005 to September 2006. At the same time, in early 2006, Eliasson reached the peak of his career with the Swedish Ministry of Foreign Affairs, becoming Minister for a brief period under a Social Democratic government. Following that position, he became engaged with the humanitarian crisis in Darfur and was the UN Secretary-General's Special Envoy to the region until he withdrew from the role in the summer of 2008, exasperated by the intransigence of the conflicting parties. In March 2012, Eliasson reached what could safely be considered the pinnacle of his career when he became the UN's Deputy Secretary-General, which was a relatively new position at the time and a job he served in until 2016.
Eliasson has never shied away from courting the media during his long career. One critical voice from the Swedish Ministry of Foreign Affairs told an American journalist that Eliasson was self-promotional and that, "He has built much of his career on using his charm and working-class origin to ingratiate himself with the Social Democratic prime and foreign ministers. His driving forces have always been his determination to get to the top no matter what". Nevertheless, Eliasson's much noted personable and charismatic personality has undoubtedly helped him to gain the confidence of warring parties during peace negotiations. Indeed, during Eliasson's last role in the UN, he was memorably described by former U.S. Secretary of State John Kerry as a "warrior for peace".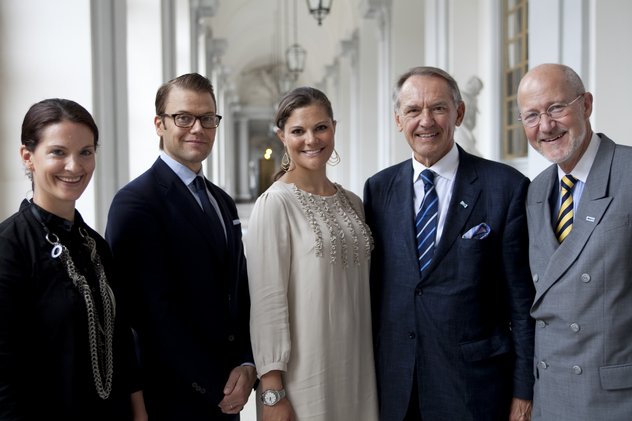 A part from his work in the UN Jan Eliasson (fourth from left) has worked as chair of WaterAid Sweden. In that capacity he is seen above in the company of the Swedish crown prince and princess, as well as Cecilia Chatterjee-Martinsen and Per Stenbeck from WaterAid Sweden. Photo: Daniel Holking, WaterAid Sverige.CC BY-SA 4.0.
What seems clear is that he has used his strong personality in a positive way in many numerous contexts. He has been a tireless promoter of Sweden's standing in global politics, once declaring that: "As a small country, Sweden has alliances as a big one". He has been a constant campaigner for the universal right to clean drinking water and sanitation, and he is the chair of Water Aid Sweden. He is also Chair of the Governing Board of the Stockholm International Peace Research Institute (SIPRI) and has had a Tällberg Foundation leadership prize established in his name.
To sum up, Jan Eliasson has undeniably been one of Sweden's most prominent diplomats over the past 40 years. He has held top-level positions within both Sweden's Ministry of Foreign Affairs and international organizations. No other international diplomat has been a mediator in as many conflicts as Eliasson over the same period of time. He has been a practitioner, researcher, and teacher in the craft of mediation. Even more, he has been a norm entrepreneur in the concept of conflict prevention and in the field of human rights. Finally, on a personal note, Jan Eliasson is married to former Swedish government minister Kerstin Eliasson and has three grown up children.
List of positions held since 1980
Member of the UN mediation team to the Iran-Iraq War, 1980-1986.
Diplomatic Advisor to the Swedish Prime Minister, 1982-1983.
Director-General for Political Affairs Swedish MFA, 1983-1987.
Sweden's Ambassador to the United Nations, 1988-1992.
The UN Secretary-General Personal Representative on the Iran-Iraq War, 1988-1991.
Chair of UNGA working group on emergency relief, 1991.
Vice-President of the Economic and Social Council (ECOSOC), 1991-1992.
UN Under-Secretary-General for Humanitarian Affairs, 1992-1994.
Chairman of the Minsk Group, OSCE, 1994.
State Secretary for Foreign Affairs Swedish MFA, 1994-2000.
Swedish Ambassador to the United States, 2000-2005.
President of the UNGA, 2005-2006.
Swedish Minister for Foreign Affairs, 2006.
UN Secretary-General's Special Envoy for Darfur, 2007-2008.
UN Deputy Secretary-General, 2012-2016.
Further reading: