Russian fans of Norwegian TV series Shame
Fans redefine geopolitical and gender-based boundaries: Shame [Skam], is a hit teen drama series produced by the Public Broadcasting Service in Norway. It ran for four seasons from 2015 to 2017 and became a global phenomenon through an active online fan culture. Remakes abound elsewhere, but Russian teens access Skam largely through social media as it has not been on mainstream TV. The intensity and creativity of Russian fandom points to fans as creators who are able to defy societal and cultural boundaries, not only with respect to conventional teen topics, but also to political ones such as gay relationships and LGTBQ rights. Through the series Oslo is branded as a well-functioning and beautiful city.
Shame [Skam] is a hit teen drama series produced by the Norwegian national broadcasting company, NRK (Norsk Rikskringkasting). It ran for four seasons from 2015 through 2017 and depicts a group of well-to-do high school students at Hartvig Nissen School in Oslo. The production of Skam, written and directed by Julie Andem, began with extensive background research, including interviews with Norwegian teenagers. Its avant-garde production model relies mostly on 'real-time' internet distribution of single scenes with the story unfolding also through 'real' social media profiles of fictional characters; the fictional time of the series was compatible with the real time of the audience, which produced an immersive, life-like media experience.
Skam has been very successful also in countries where it has not necessarily been available through any formal television networks. This means that there has not been any national or industry-gatekeeper packaging and distributing the series to its audience. On the contrary, all its content—including the original episodes subtitled by fans themselves, the social media content created by the production team, as well as the wealth of fan art and fan fiction stories based on the series—is distributed horizontally across social media.
In a similar way to how Chinese fans use of the Weibo platform,Skam fans use VKontakte, which is a national social media site similar to Facebook. In this context, the very strong emotional register of online fan communication and vernacular creativity characteristic of online subcultures are used to reimagine Nordic culture and society in a transnational axis Norway – Russia.
Russian Skam fandom online: Alt er Love (Love is all)
The Russian Skam fan community is substantial in size, covering a number of fan profiles with hundreds of thousands of followers: as of October 2018, SKAM, Skam is my life had 329,860 followers, Series: Skam, Shame had 122,379, Skam Remakes had 207,865, and the spin-off fan profile devoted to the main characters of the third season, Isak & Even, had 24,038 followers. Together the Russian-speaking Skam fan community has shared over 40,200 posts on VKontakte and the accounts were still being updated, even after a year and a half since the release of the final episode.
The Skam phenomenon landed in Russia during the third season, which centers around the coming-out story of Isak, 17-year-old sophomore at Hartvig Nissen. This season was the highest-rated and internationally most popular. For example, both what claims to be the 'official fan profile' Skam family and the spin-off profile Isak & Even were founded when the third season was into its fourth week in Norway. The first posts on the fan site introduce the new forum as a "friendly community where everyone can respect one another". The account's creators recruited active fans, willing to put in at least two hours per day, as administrators and translators to write Russian-language subtitles to the episodes. The community rules of the fan site strictly forbid "destructive criticism" and "religious intolerance, homophobia, heterophobia, racism and sexism." These rules echo the message of the third season captured in the famous slogan Alt er Love (Love is all), which came to represent the Skam philosophy for its fans and is constantly repeated on the fan sites.
Skam fan sites on VKontakte make this international series available to a broad Russian-speaking youth audience but they also constitute an exhaustive and accumulating archive of Skam-related knowledge existing on Runet, the Russian-language segment of the worldwide web. Through the persistent work of devoted fans, the Russian Skam fan community has thus evolved to be a huge multilingual, cross-cultural, and transnational effort of netizen activity with Russia and Norway as the two focal centers of cultural production. Participation in Skam fan community furthermore deepens Russian teenagers' interaction with global youth culture. In the Russian context, participation in a teen television fandom can also be seen as transgressive, which becomes particularly apparent in the way Russian fans relate to Skam's third season and along with it tackle questions of sexual identity and gender norms.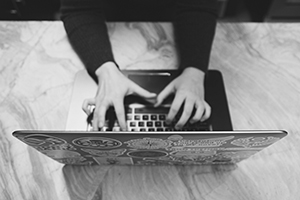 Re-negotiating gender and sexuality
Russia's state paradigm of sexual politics is currently defined by the federal law banning "propaganda of non-traditional sexuality" among minors. This legislation makes contemporary Russia an oppressive environment for sexual minorities. After the law was passed in 2013, homophobic discourse in the public sphere has become widespread, empowering representations of homosexuality completely marginalised and hate crime against sexual minorities is on the rise. In mainstream media, homophobic and anti-Western sentiments intertwine and spread through the discourse of 'geiropa' ('gay Europe')..
Obviously, in the current situation it would be impossible to show Skam on Russian national networks and market it in the way its production model requires, i.e. targeting teens and particularly avoiding adult attention. Online fandom, however blurs the line between marginal and mainstream cultures. It offers access to an assemblage of representations from different sources without a strictly defined authoritarian voice, which gives room for negotiation between a number of different, and sometimes contradictory positions and opinions. The comments describing how the Russian-speaking fans perceive Isak's and Even's relationship in the third season range from frustrated and judgmental to positively surprised and nearly ecstatic. This shows how fandom is a space where teens can express their feelings about controversial issues and get a response to their feelings from other fans.
Those fans who take part in the affective, celebratory reproduction of Isak's and Even's love story on the separate spin-off fan site, acknowledge the differences between Norwegian and Russian state politics concerning LGBT rights as well as the effect these policies have on the public discourse concerning sexual minorities. The fan page starts with a disclaimer announcing, "the age limit of this forum is 18+ and the administrators do not take responsibility for people younger than that seeing content on this site". With a reference to the Russian law against propaganda towards minors, the post continues, "All information (…) is provided exclusively for entertainment, not for propaganda purposes". The closing statement of the disclaimer, however, makes a transition from this mandatory labelling of media content into the realm of the Skam worldview: from the perspective that, under the current Russian state norm, content can be taken as harmful or explicit to one that fans across national and cultural boundaries share. It goes on:
"It's a cliché but you never know who will die tomorrow. Even if you believed in Allah or Jesus, or the evolution theory, or in parallel universes, there is only one thing we know for sure: what is happening right now."
Affective engagement with the gay romance plotline is expressed through intensive repetition of the scenes the fans find most striking, for instance through a sequence of screengrabs visually chronicling all kisses between the two male characters. The most impressive romantic encounters between Isak and Even are also reproduced in fan art images, which sometimes transform to pornographic representations of intimacy and sex. In fan production, the original storyline blends with popular fan fiction stories circulating across the internet and translated from one language to another. Certain plots imagining Isak's and Even's future together have established as well-known 'Skam-lore': They will get married and have two children, a boy and a girl.
Imagined Norway - a prince can have a prince
The perception of Skam on the Russian-language fan profiles is also created through Norway's imagined geography and statehood, against which the fans develop their interpretation of the same-sex relationship. For example, as if to emphasise the role of the modern city Oslo as an important eye-witness to Isak's and Even's love story, a number of fan art collages reproduce the city views used in the original series in-between scenes and combine them with repetitive images of the two main characters.
In this way, the fan community creates a space for an imaginary Nordic topography to evolve. In this topography, geographical signifiers are affectively juxtaposed with Isak's and Even's kissing scenes as if to underscore that a gay romance takes place openly, in a shared city space. The background location of Oslo in particular receives an idealised, almost mythical meaning through further reproduction of Isak's and Even's kisses against pure, untouched nature and landscapes (snowy mountains, for example), which are a metaphor of the untamed lust and passion behind the attraction between the romantic couple. In this process of affective use of images, the Russian-speaking Skam fans engage with an imaginary Norway as an idealised and unrestricted space to talk about love, sex and LGBT rights. However, the oscillation between different geographies—realistic and metaphorical, city versus nature—can be interpreted to mean that there is something unattainable in this love, something that continues to escape to the domain of imaginary and metaphorical.
In the context of the Russian fan profile this symbolic work can also be interpreted as a struggle for finding expressions for the variety of forms love can take. This is exemplified by the following short conversation between two fans:
Under a picture of Herik Holm (the actor who plays Even) playing the role of as a prince in a theatre production he did after Skam, a fan comments, "and Tarjei (Sandvik Moe, the actor playing Isak) is his princess".
To which another fan replies, "in Norway it is possible for a prince to have a prince".
This small exchange determines the boundaries of discourse: different legal and societal frameworks have an impact on how imagination works but the transnational context of television fandom might help reassess and overcome those boundaries.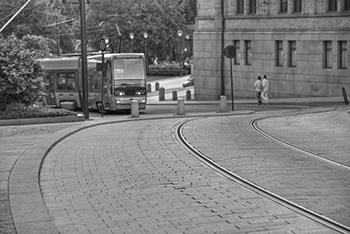 The apparently well-functioning city of Oslo in Norway acts as a backdrop to the series Skam.
Other visual reminders of Norwegian state institutions and national symbols are not prominent in the newsfeed but remain in the background. However, when prominent national symbols are used the message can be quite strong. The Norwegian Constitution Day on May 17th coincides with the International Day against Homophobia, which is not left unnoticed by Russian-speaking Skam fans: in 2017, May 17th was acknowledged with an image where a screenshot of Isak and Even was embedded in a picture of the Norwegian flag. A year later, a different adaptation of the same theme appeared: different colors of t-shirts of the kissing couple formed the colour-scheme of the Norwegian flag. In this representation the nation-state Norway equals LGBT rights and sexual liberation.
Productive fandom engaging in geopolitics
As a result of horizontal sharing of fan creativity, Skam is engaging the entire global youth in thinking about and comment on timely issues of international politics, of which LGBT rights is just one example. Political and societal themes constitute important threads in Skam's overlapping storylines that otherwise focus on more conventional teen topics, such as friendships, dating and parties. Internet fandom provides Russian youth an alternative to the state media agenda. If the Russian mainstream media, as well as Russia's international image are a 'Putin-bubble', the Russian-speaking Skam fan community is a different one that exists separately but not without national and geopolitical signifiers. Finally, the larger question is how much do TV series produced for teen audiences count in the global geopolitical terrain? The fact is that these audiences are the most active users and participants in online fandom and therefore they do not only count as consumers, but also as producers of modern TV.
Further reading:
Alexander Kondakov, Prestupleniia na pochve nenavisti protiv LGBT v Rossii [Hate Crime against LGBT people in Russia], (Moscow: Tsentr Nezavisimykh sotsiologicheskikh issledovanniia, 2017).
Emil Persson, Banning "Homosexual Propaganda": Belonging and Visibility in Contemporary Russian Media, Sexuality & Culture, 19, 2 (2015) pp. 256-274.
Vilde Schanke Sundet, "From 'Secret' Online Teen Drama to International Cult Phenomenon: The Global Expansion of SKAM and Its Public Service Mission," in Richard McCulloch & William Proctor, eds., The Scandinavian Invasion: The Nordic Noir Phenomenon and Beyond. (Bern: Peter Lang, forthcoming).