Ballet in Finland
The National Ballet was founded in 1921, later than those in Denmark, Norway and Sweden due to Finland only becoming independent in 1917. Its geographical location meant that ballet took on a geopolitical dimension during the Cold War.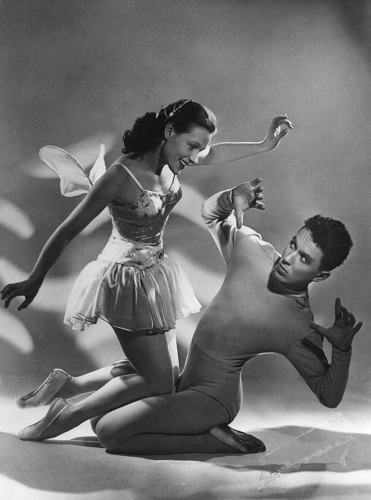 The Finnish National Ballet (FNO) was founded at the Finnish Opera in 1921, later than the other Nordic countries due to Finland only becoming independent in 1917. It was under the direction of Edvard Fazer (1861-1943) when George Gé (1893-1962) was invited from the St Petersburg Imperial Ballet to Helsinki as the company's ballet master. In 1947 the FNO performed Swan Lake in Stockholm and in 1952, with the Olympic Games taking place in Helsinki, many visitors became acquainted with Finnish ballet as the FNO performed Pessi and Illusia, based on a Finnish fairy tale by Yrjö Kokko (1903-1977). The ballet became very popular and is still performed, for example by the Finnish ballet company Glims and Gloms from Espoo. Gé returned to the company as ballet master from 1955 to 62, one of his successors being Nicholas Beriozoff (1906-1996).
Helsinki as a meeting point for American and Russian ballet dancers during the Cold War
At the height of the Cold War, ballet dancers from the Bolshoi Theatre and the American Ballet Theater could meet in Helsinki. In 1970 the Finnish choreographer Elsa Sylvestersson (1924-1996) became ballet mistress, and was followed by Konstantin Damianov, with Juhani Raiskinen (1937-2016) becoming director from 1974. The repertoire expanded to include Soviet ballets such as Fountain of Bakhchisarai and Stone Flower, as well as works by European and native Finnish choreographers. Doris Laine (b. 1931) was made prima ballerina in 1956, and other principal dancers have included Leo Ahonen (b. 1939) and Matti Tikkanen (b. 1945). Laine was director 1984-92 and was succeeded by Jorma Uotinen (b. 1950), under whose direction, from 1992 to 2001, the company's repertoire expanded to embrace a range of modern ballet including works by Uotinen, Carolyn Carlson (b. 1943), William Forsythe (b. 1949), Angelin Preljocaj (b. 1957), Ohad Naharin (b. 1952), and others. A new staging of Giselle (1998) by Sylvie Guillem (b. 1965) also took place, her first major production for the stage. Dinna Bjørn from Denmark (b. 1947), who was director from 2000 to 2008, was succeeded by another Dane, Kenneth Greve (b. 1968). The FNO is the only Finnish company that regularly performs a classical ballet repertoire. The Finnish National Opera Ballet School works in close association with the National Ballet.
Modern dance
Modern dance in Finland was also influenced by foreign ballet dancers such as Isadora Duncan in the early twentieth century. At that time, dance in the same genre as Duncan's was called 'free dance', as it was free from the strict rules of classical ballet and dancers like Duncan danced barefooted. Duncan visited Finland in 1908, and although 'free dance' was not immediately successful, Maggie Gripenberg (1881-1976), the best-known pioneer of Finnish 'free dance', became interested and performed her first free dance in 1911 at the National Theatre in Helsinki. However, 'free dance' remained on the periphery until the 1960s, when American modern dance was introduced with a performance on live television of The Eagle by Riitta Vainio (b. 1936).
In 1916, 'Peer Gynt' was performed at the Finnish National Theatre.
Pictured in the middle is Maggie Gripenberg.
Photographer unknown (Public domain)
Vainio was the founder of the School of Modern Dance in Finland, but as early as 1966 she had launched another school, the Institute of Modern Dance, as she wanted a clear division between professionals and amateurs. In the 1970s and 80s other schools and theatres were founded, including the Rollo Dance Theatre (1972) with Jorma Uotinen as one of the dancers. Uotinen was the first dancer of the Helsinki City Theatre Dance Company which was founded in 1973. He performed in Paris and, in 1982, became artistic director of the Helsinki City Theatre Dance Company. Carolyn Carlson succeeded Uotinen in 1991, and subsequent directors have included Kenneth Kvarnström (b. 1963) and Nigel Charnock (1960-2012).
Modern dance became more widely accepted alongside classical ballet in the 1980s. In 1983 professional training was offered by the Department of Dance, part of the Theatre Academy of Finland. Modern dance and classical ballet have subsequently flourished and have also been combined, a fine example being the work of Tero Saarinen (b. 1964) who has found inspiration in Japanese Butoh and martial arts. In 1996 he founded the Tero Saarinen Company.
Due to its geographical location, Finland can of course also be regarded as a transit country, and although scholars of dance have tended to focus on what is typically Finnish, new styles have been developed in Finland as well by dancers such as Cecila Moisio (b. 1978) and Virpi Pahkinen (b. 1966), are both working internationally.
Further reading:
M. Näveri, Contemporary Dance in Finland. A FAST-FIN-1 (TRENAK1) Finnish Institutions Research Paper FAST Area Studies Program Department of Translation Studies (University of Tampere, 2004).
Links: