Drama in Sweden
This is the third Quick Read on drama in the Nordics and this time it focuses on Sweden.
Established in 1788, the Royal National Theatre Dramaten in Stockholm has eight stages and tours the country and abroad. Riksteatern, launched in 1933 as a popular movement and touring company and owned by about 230 local theatre associations, visits several hundred Swedish venues annually. There is also a number of City Theatres (stadsteatrar), along with 20 subsidised regional theatres (länsteatrar), as well as independent theatre and dance companies.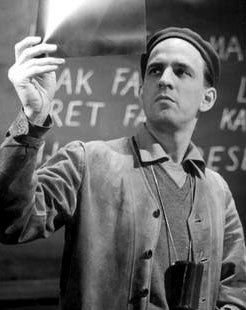 The director Alf Sjöberg began staging innovative productions of both Strindberg and Shakespeare at Dramaten in Stockholm in the 1940s, and in the same decade Ingmar Bergman began his career as a theatre director. Sjöberg also introduced work by international playwrights such as Frederico García Lorca and Jean-Paul Sartre. In February 1956, Long Day's Journey into Night by the American playwright Eugene O'Neill opened at Dramaten in Stockholm, which had been granted exclusive rights to the world premières of some of the works by the 1936 Nobel Laureate. But contributions by Swedish playwrights remained few and far between, examples including work by Stig Dagerman and Lars Forssell. It was only in the second half of the 1960s that Swedish theatre gained a new voice with Flotten (The Raft), a Brecht-inspired critical examination of aspects of contemporary Swedish society written by Kent Andersson and Bengt Bratt and developed as a group project by them and their fellow actors at the Gothenburg City Theatre. It was followed by the equally successful Hemmet (1967) (The Home) and Sandlådan (1968) (The Sandpit).
The high profile of the Stockholm City Theatre in the 1970s made it a competitor of Dramaten and saw the emergence of a number of Swedish playwrights, among them Suzanne Osten and Margareta Garpe (b.1944). Initially successful in their co-operation on feminist plays, they went on to work independently. As Artistic Director of Klara Teatern in Stockholm, Osten became a pioneer of children's theatre in Sweden, her work also helping to raise its international profile. An important contribution to theatre for young audiences has also been made by Staffan Göthe (b. 1944).
A number of new Swedish playwrights have emerged since the 1970s. The novelist Per Olov Enquist established himself as a playwright with works such as Tribadernas natt (1975) (The Night of the Tribades, 1977), about August Strindberg, his estranged wife Siri von Essen, and her Danish friend Marie David; and Bildmakarna (1998) (The Image Makers, 2004), about the Swedish Nobel Laureate Selma Lagerlöf and the film director Victor Sjöström. In 1980 Lars Norén's Orestes had its première at Dramaten. Norén has often been likened to Strindberg in his treatment of interpersonal relationships, but while his early work focused on the nuclear family, he has gone on to explore topics such as homelessness, prison inmates, and street children. Norén's work has won wide international acclaim.
Other significant contributors to Swedish drama since the 1980s include Stig Larsson, whose VD (Managing Director), about power and sex, had its première in 1987; Kristina Lugn, author of many highly popular plays; and Jonas Hassen Khemiri whose first drama, Invasion! (2006), became a major success both in Sweden and internationally.
Further reading:
L.G. Warme, A History of Swedish Literature. (Lincoln and London: University of Nebraska Press, 1996).