Prominent 21st century architecture in Denmark
Booming Danish 21st century architecture includes harbour swimming pools, housing, civic buildings and event houses, with neo-modernist design playing a significant role.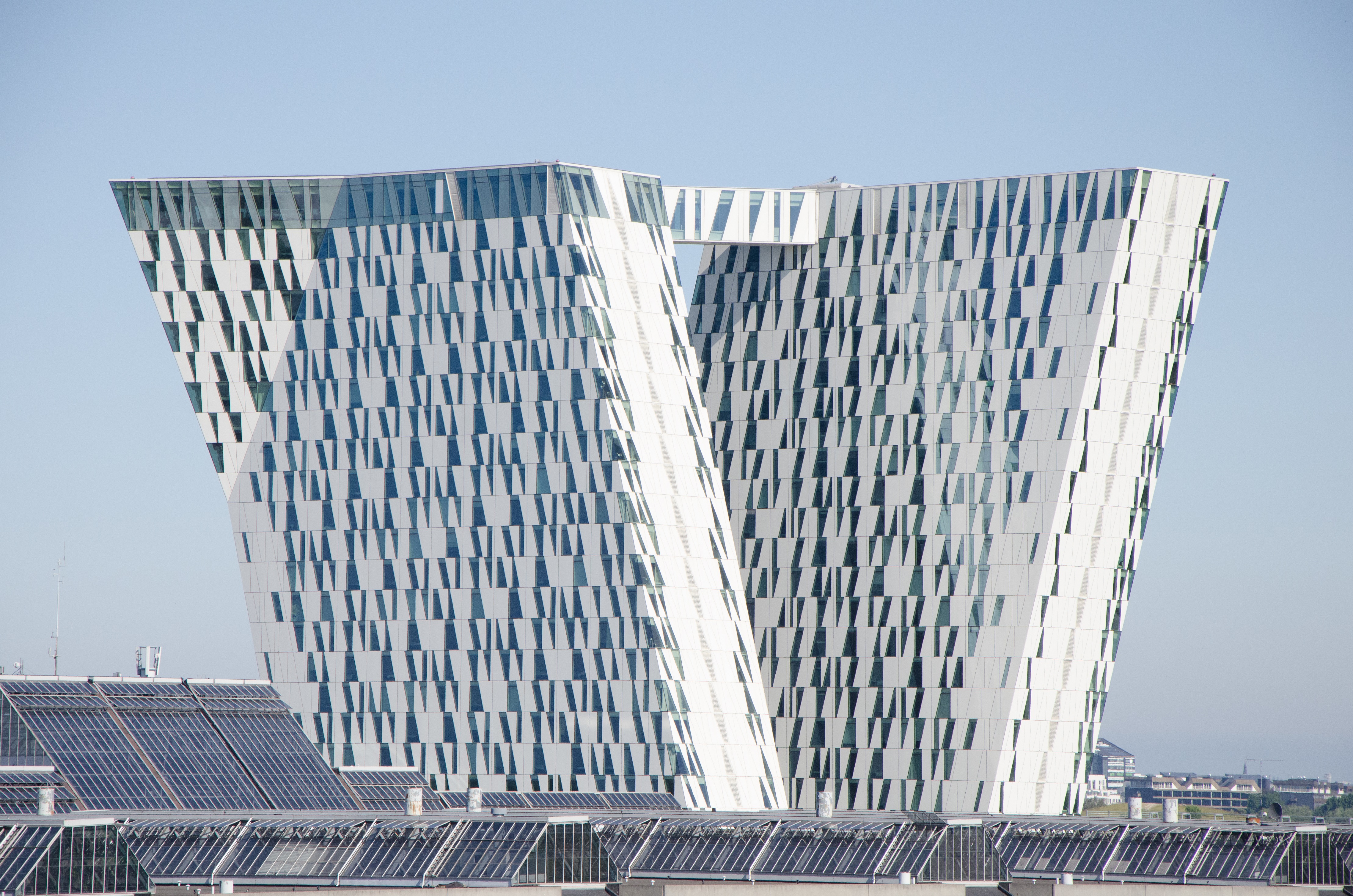 New public promenades along Danish waterways for recreation and leisure have become characteristic of urban places. Exemplars are:
PLOT's Islands Brygge harbour bath (2004),
JAR Architects + Urban Agency's Kalvebod Waves (2008) and Fåborg harbour bath (2014),
White Arkitekter's Kastrup Sea Bath (2005) and Hasle harbour bath (2013),
Bjarke Ingels Group's (BIG) Aarhus harbour bath (2018), and
Dissing + Weitling's 'Cykelslangen' (2014) in Copenhagen.
Dissing + Weitling's 'Cykelslangen' (2014), Copenhagen. The name translates roughly to 'Bicycle Snake'; a wordplay on the Danish words for 'bicycle tube' and 'snake', alluding to the winding shape of the bicycle bridge, which hovers six-seven metres above the harbour and quayside, connecting Dybbølsbro with Bryggebro. Photo: Fred Romero (CC BY 2.0)
The explosion of cultural complexes in Denmark include:Henning Larsen's Opera House (2005) beckoning across the Copenhagen harbour to Lundgaard & Tranberg's Royal Danish Playhouse (2008); 3XN's Blue Planet Aquarium (2013); Schmidt Hammer Lassen's 'ARoS' Aarhus Art Museum (2003) and Dokk1 Urban Media Space (2015); BIG's National Maritime Museum (2014); AART Architects' Culture Yard (2010); and 3XN's Royal Arena (2017).
PLOT, VM housing complex (2005), Copenhagen. One of the initial avant-garde Danish housing projects, featuring a sloped glass façade and spikey meshed balconies. Photo: Krysta Mae Dimick
Danes were little prepared for new vibrant housing developments: PLOT's VM Housing (2005), BIG's Mountain Dwellings (2008) and 8 House (2011), as well as JDS Architects' TAD/Iceberg complex (2013) established innovative and expressive housing forms, as did Henning Larsen Architects' 'The Wave' (2009).
Neo-modernism is exemplified by Henning Larsen's Nordea Headquarters (2000), as well as Schmidt Hammer Lassen's Nykredit headquarters (2001) and 'Crystal' (2011). Larsen's Moesgård Museum (2013), 3XN's AC Hotel Bella Sky (2011), Dorte Mandrup Architects' cubic Herstedlund community centre (2009) and white steel Aarhus harbour sailing tower (2015), as well as Olafur Eliasson's Fjordenhus (2018) in Vejle epitomize the expressive power of recent Danish work. Mandrup's Wadden Sea Centre (2017) exemplifies a more culturally-referenced architecture.
Further reading: